Load up on this cozy Vegetable Wild Rice Soup this winter! It's full of nutritious ingredients and will satisfy you on cold nights. Vegan & gluten-free!
Hi. How are you? Living in a food coma? Still eating the pumpkin pie?! Same.
I hope you all had a wonderful Thanksgiving with your loved ones! I've got to say, this might've been the best Thanksgiving so far. My mom and I spent hours cooking the night before, so we could relax and avoid kitchen meltdowns the day of. I made a seitan roast, mushroom gravy, cornbread, sweet potato casserole, pumpkin pie, and chocolate pudding pie. Talk about a whole lot of YUM.
Perhaps the best part of this Thanksgiving was that I gave myself permission to fully and truly enjoy it without guilt – which is how I try to approach every meal nowadays. I'm not in between diets like previous years, so I didn't feel the need to stuff myself to sickness. Trust me, I was very comfortably full, but I didn't hate myself after. I enjoyed every last delicious bite.
That being said, I'm looking forward to enjoying this light, healthy soup for the next few days to give my system a break from pie. Much needed.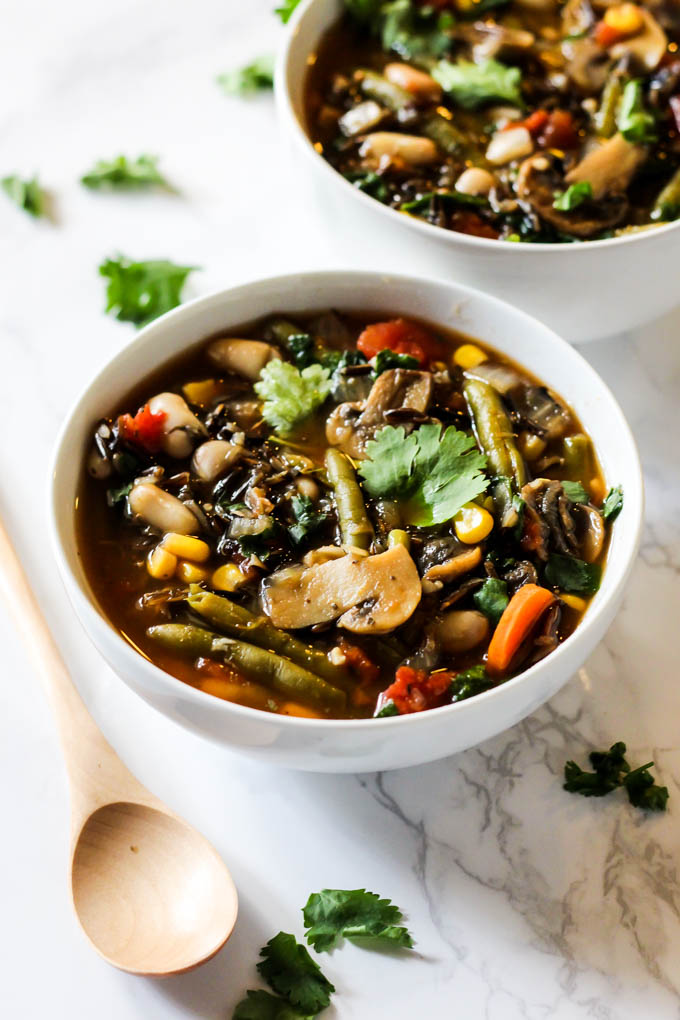 I'm going to keep the talking short today since I'm at home spending time with my family (I really need to get ahead…) but I can't leave without telling you how damn good this soup is.
The idea for the soup came organically as Cayden and I were grocery shopping, and I told him we needed to brainstorm a recipe for the blog based off what we found at the store. Well, after we were intrigued by the long, black wild rice, and knowing that we would want lots of vegetables after Thanksgiving, we decided on a vegetable wild rice soup!
Soups are so forgiving. You just throw in a ton of vegetables, even ones that are going bad at the back of your produce drawer, and whatever else you have on hand to create the coziest bowl of goodness. You really can't mess up soup! (Well, I'm sure there's a way…but I trust all of you enough.)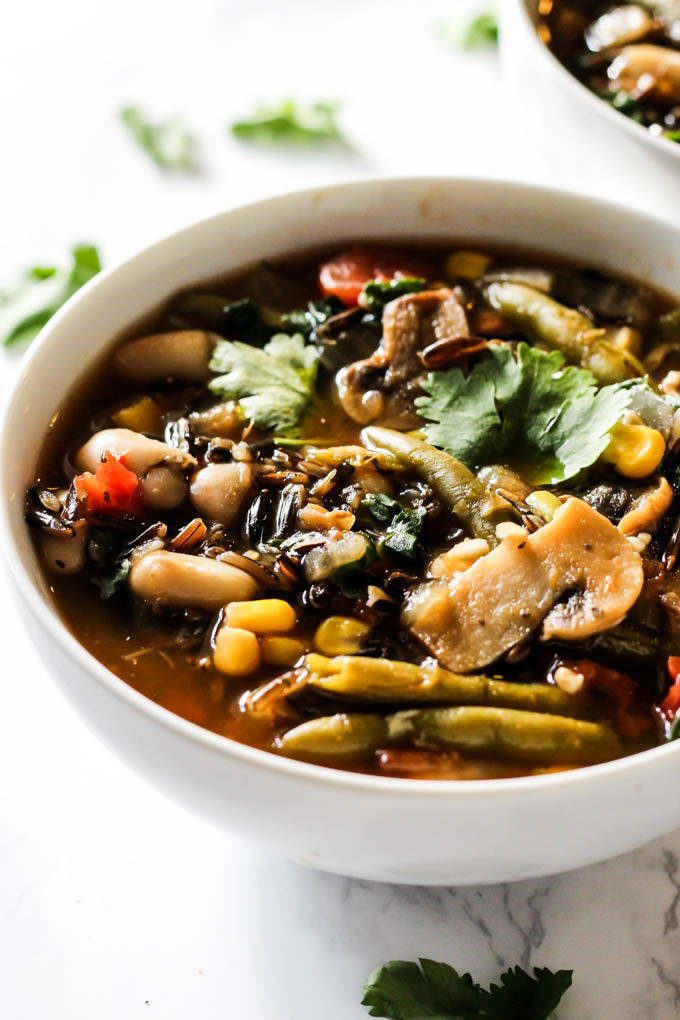 This soup is super (no pun intended) customizable to your taste preferences and what you already have lying around. Hate mushrooms? Leave 'em out. Got a can of kidney beans? Use those instead. Still obsessed with everything #kale? Use that instead of spinach.
I found wild rice at Trader Joe's for the cheapest price, but Whole Foods also carries it. Check your local health food store, or use a different kind of grain (though cooking times will be affected – just watch it). I also thought about putting potatoes in here, so you could totally do that, too!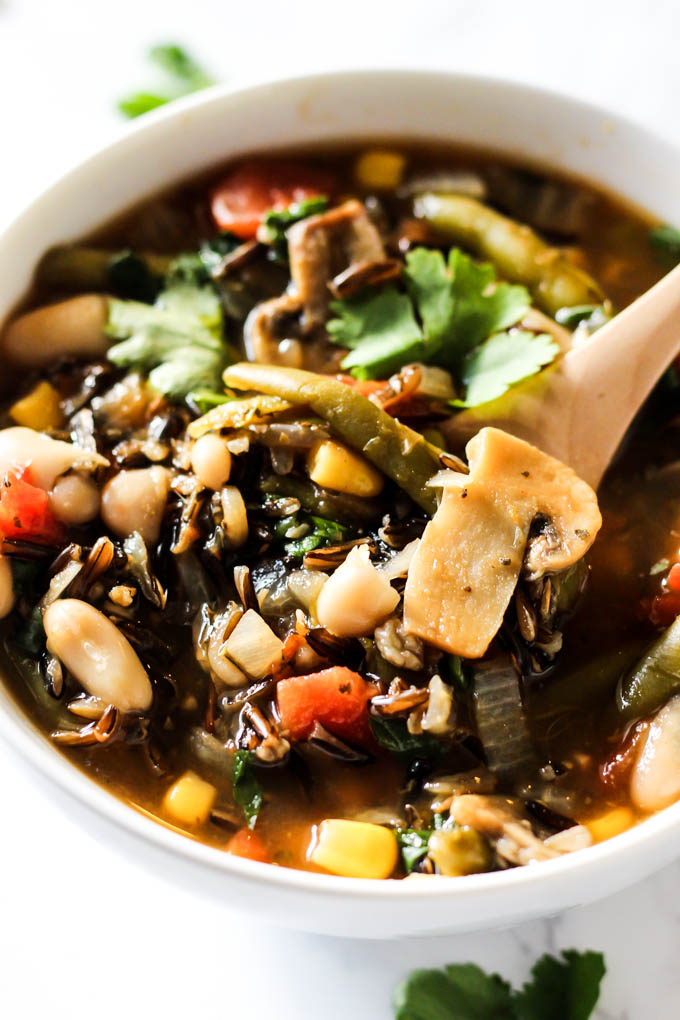 There is nothing I want more right now than my fuzzy slippers, a movie, and a big bowl of this soup loaded with nutritious vegetables. It's full of fiber & antioxidants, and it's vegan, gluten-free, & ready in about 1 hour. Feeling good comes from inside – and this soup is sure to get you glowing!
If you get to try this amazing vegetable wild rice soup, let me know in the comments how you like it! You can also share a pic on Instagram and tag @emilieeats & #emilieeats! Seeing your foodie masterpieces makes my day.
Happy weekend, lovelies!
Print
How to make:
Vegetable Wild Rice Soup
Load up on this cozy Vegetable Wild Rice Soup this winter! It's full of nutritious ingredients and will satisfy you on cold nights. Vegan & gluten-free!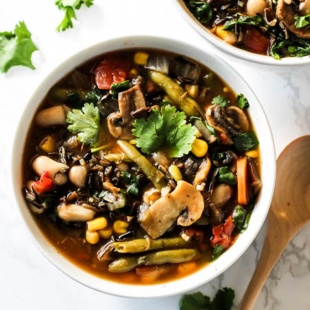 Ingredients
1

medium onion, finely chopped

2

medium carrots, sliced

1/2

bell pepper, chopped

2

cloves garlic, minced (

1 teaspoon

)

8 ounces

mushrooms, sliced

2 cups

green beans (fresh or frozen)

2 teaspoons

dried basil

1 teaspoon

dried oregano

1/2 teaspoon

smoked paprika

1

15-ounce can diced tomatoes

1

32-ounce (4 cups) container vegetable broth

2 cups

water

1 cup

wild rice

1

15-ounce can white beans, drained and rinsed

3/4 cup

organic corn kernels (canned or frozen)

2 cups

spinach, chopped
Salt and pepper, to taste
Instructions
In a large pot, heat a little water or oil over medium heat.
Add onion; cook for 5-7 minutes, until they begin to brown. Add carrots and bell pepper; cook for 3 minutes. Add garlic; cook for 1 minute.
Add mushrooms, green beans, basil, oregano, and smoked paprika. Stir until the vegetables are evenly coated in spices; cook for 3-4 minutes.
Add diced tomatoes, broth, water and wild rice. Bring to a boil. Cover, reduce heat to simmer, and cook for 45 minutes.
Add beans, corn, and spinach. Cook until the spinach is wilted. Serve hot.