This post is sponsored by The Quaker Oats Company, but all opinions are my own.
This Pumpkin Sage Oat Risotto is a hearty dinner full of traditional risotto flavor – just made with steel cut oats! A great vegan dinner option.
Some may say that pumpkin season ends on Thanksgiving or maybe on Christmas. But I do declare that pumpkin season can last however long you want it to!
I would like it to last all year, mostly so that I can chow down on this Pumpkin Sage Oat Risotto any time.
Seriously, we shouldn't limit our enjoyment of this humble orange vegetable to a couple months out of the year! Someone give me a good reason why we can't enjoy pumpkin risotto, pumpkin cheesecake, or pumpkin oatmeal year round… I'll wait.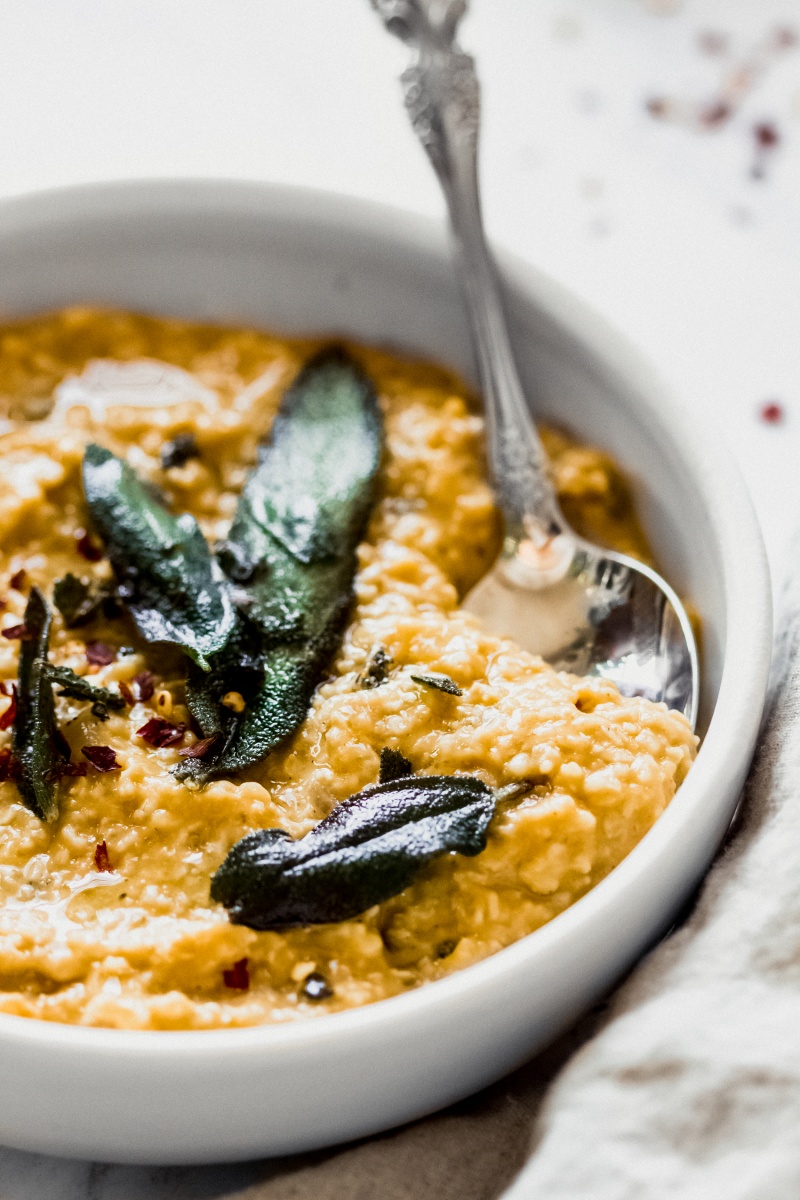 All jokes aside, I am VERY excited to share this Pumpkin Sage Oat Risotto recipe with you today! One, because it's delicious. And two, by the time this goes live on the blog, I'll be done with my semester. One semester away from having my master's degree woohoooooo.
Also, can we talk about how we're about to wrap up a DECADE?! I haven't really thought about it (school takes up so much brain space), but this is a pretty big milestone to remember. To think back at all that has happened in the past decade for me is overwhelming – graduating high school, starting this blog, adopting Leo, getting a college degree, moving to Colorado, buying a house, traveling to Italy… whew!
I can only imagine that the next year and decade will be full of surprises, fun times, hard times, good people, and (maybe most importantly) GOOD FOOD.
How to Make Oat Risotto
Traditional risotto is made with rice, but we're switching it up and using OATS! Quaker Steel Cut Oats Quick 3-Minute, to be exact. These are great if you love the texture of steel cut oats but don't have time to cook them.
Quaker Oats are incredibly versatile, making them the perfect base for savory recipes like this risotto, baked goods, or good old-fashioned oatmeal. All varieties of Quaker Oats – instant, quick, old fashioned and steel cut – are 100% whole grain and contain similar amounts of fiber, vitamins, and minerals ounce per ounce.
The method to make this risotto is just like traditional risotto, so you get all of the flavor you would expect from risotto!
First, start by sautéing onions and garlic. Then you'll add Quaker Steel Cut Oats, white wine, pumpkin and sage for ~winter vibes~. Next, you'll add vegetable broth. The trick here is to stir, stir, stir – you get a meal AND a bonus arm workout with this recipe.
Finish off with some nutritional yeast or vegan parmesan, spices, and (if you're feeling fancy) fried sage!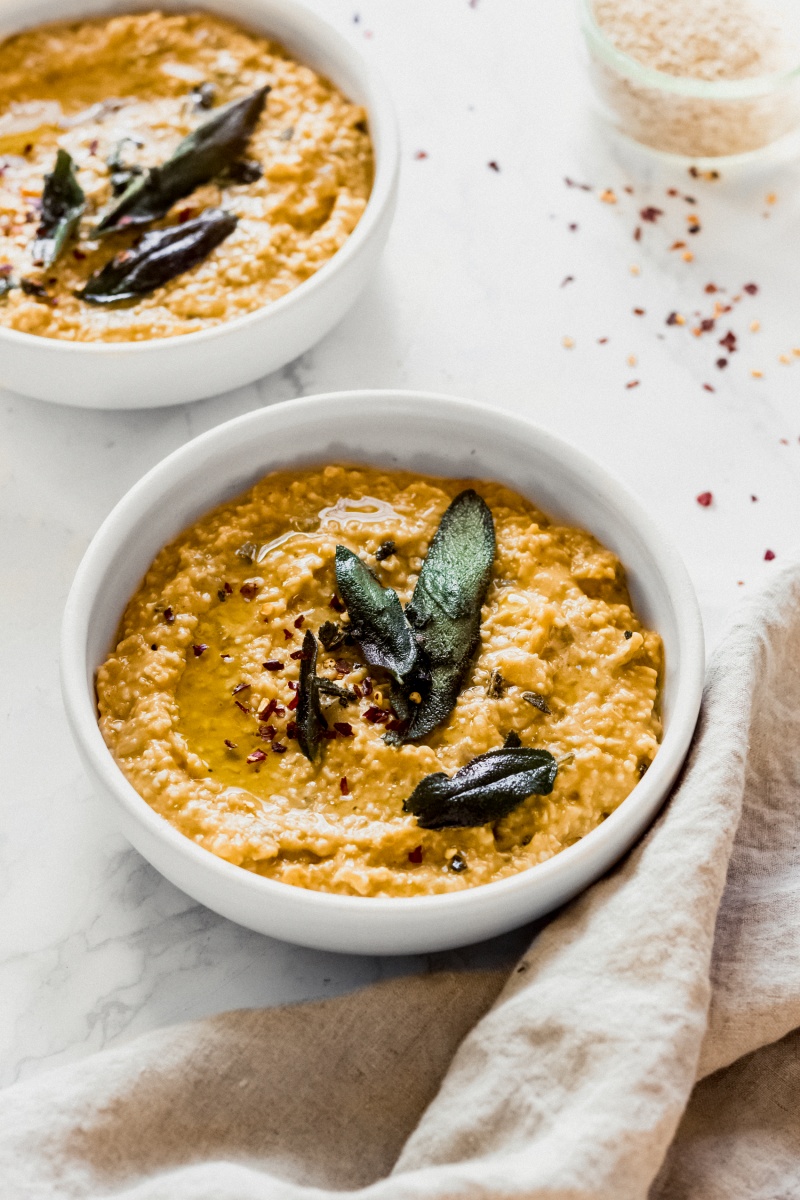 Print
How to make:
Pumpkin Sage Oat Risotto
This Pumpkin Sage Oat Risotto is a hearty dinner full of traditional risotto flavor – just made with steel cut oats! A great vegan dinner or side dish.
Ingredients
2 tablespoons

olive oil

1

yellow onion, finely diced

4

garlic cloves, minced

1 2/3 cups

Quaker® Steel Cut Oats Quick 3-Minute

1/2 cup

dry white wine

1/2 cup

pumpkin puree

3 tablespoons

sage, finely chopped (1/2-ounce package)

4 cups

low-sodium vegetable broth

2 tablespoons

nutritional yeast or vegan parmesan

1/2 teaspoon

ground thyme

1/4 teaspoon

salt

1/4 teaspoon

black pepper
Instructions
In a pot over medium heat, add olive oil. When hot, add onion. Cook for 8-10 minutes, until lightly browned. Add garlic and stir. Cook for 1-2 minutes, until garlic is fragrant.
Add oats and white wine. Stir; cook until oats have absorbed all liquid. Add pumpkin and sage; stir to incorporate.
While stirring, slowly pour in the vegetable broth. Increase heat to high; bring to a boil. Reduce heat to low and let simmer for 15 minutes, stirring frequently.
Remove pot from heat. Add nutritional yeast, thyme, salt, and pepper; stir.
Thanks to The Quaker Oats Company for sponsoring this post! I love working with brands whose products I really love and would honestly recommend. Thank you for your support!