Warm up with some nutrition-packed Cauliflower Turmeric Soup. This easy vegan vegetable soup will leave you feeling cozy and nourished. This post was sponsored by McCormick. I only work with brands whose products and missions I truly believe in. Thanks for supporting my blog!
Cauliflower Turmeric Soup
It's definitely that time of year where I find myself craving soup pretty much every day. When the temperature starts to drop, all I want is to snuggle up in my coziest sweater and get a big pot of a delicious vegan vegetable soup on the stove.
Something about a big bowl of vegetable soup just warms you up from the inside out. It always feels like a hug in a bowl to me, and when you pack your soups full of warming spices, it also leaves you feeling so nourished. This cauliflower turmeric soup does just that. You'll be feeling mighty fine after a big bowl of this!
Soups are also such a good way to pack in all.the.veggies! Soup is foolproof – there's really no secret to cooking it; you just add all your favorite veggies and add-ins with broth and let it cook. That's all there is to it! It's a great way to use up any veggies that have been sitting in your vegetable drawer or on those nights when you just can't come up with an idea for dinner!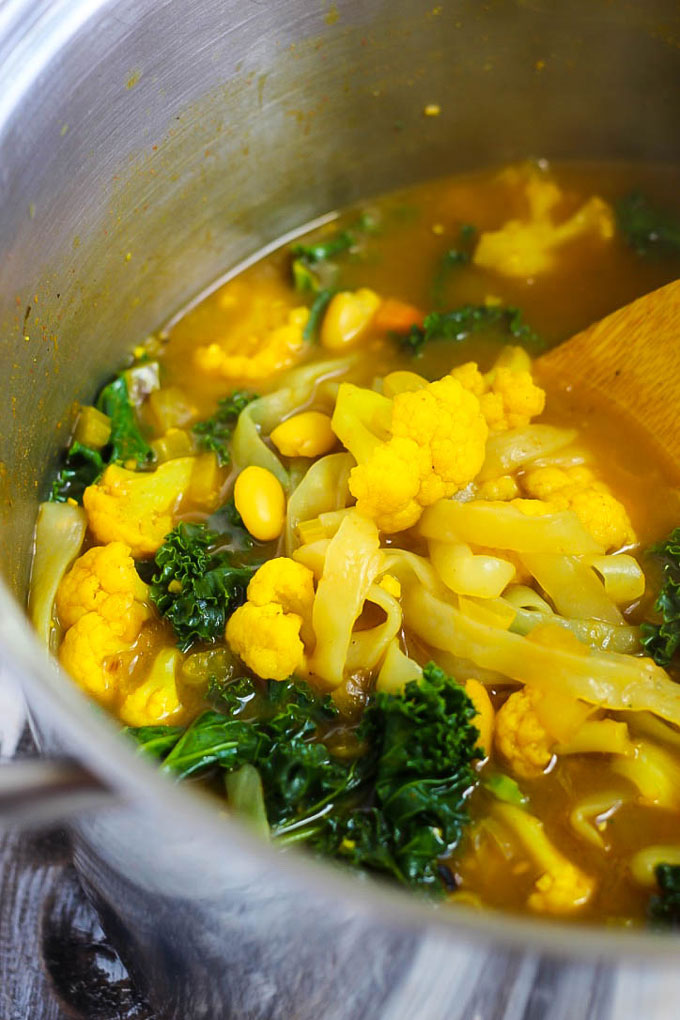 Ingredients for Cauliflower Turmeric Soup
I love cooking with turmeric. It gives this vegan vegetable soup a beautiful golden color and adds a grounding flavor that makes this cauliflower soup feel so comforting. Plus, we're starting to see scientific evidence of the anti-inflammatory properties of curcumin, a compound in turmeric!
I've been using McCormick spices since before I can remember, and their turmeric is so colorful and high quality! Plus, it's inexpensive. You can enjoy all the benefits of turmeric without breaking the bank!
This turmeric soup is filled with tons of veggies and some white beans for protein and filling power. Here's everything you'll need to make it:
Olive oil. This turmeric soup recipe starts with vegetables sauteed in olive oil to build the flavor base of the soup.
Veggies. We're using an onion, one medium carrot, celery, and cauliflower in this turmeric soup, but use whatever you have on hand!
Garlic. I minced about 4 cloves of garlic for this vegan vegetable soup, but you can scale up or down depending on your preferences.
Spices. You'll need salt, pepper, ground turmeric, ground ginger, and cayenne pepper. I love using McCormick spices for big flavors
Vegetable broth. You can use freshly made broth or store bought. If you're using a pre-made broth, I recommend going for low-sodium so you can control how much salt you add to this turmeric soup.
Great Northern beans. We're adding beans for protein and a fiber boost! Navy beans or cannellini beans would also work well.
Greens. I went for kale because it's my favorite dark leafy green, but chard or spinach would also work.
Noodles. Choose your favorite! I used a package shirataki noodles because I was super curious to try them, but you can use a regular pasta, a gluten-free pasta or even a spiralized veggie!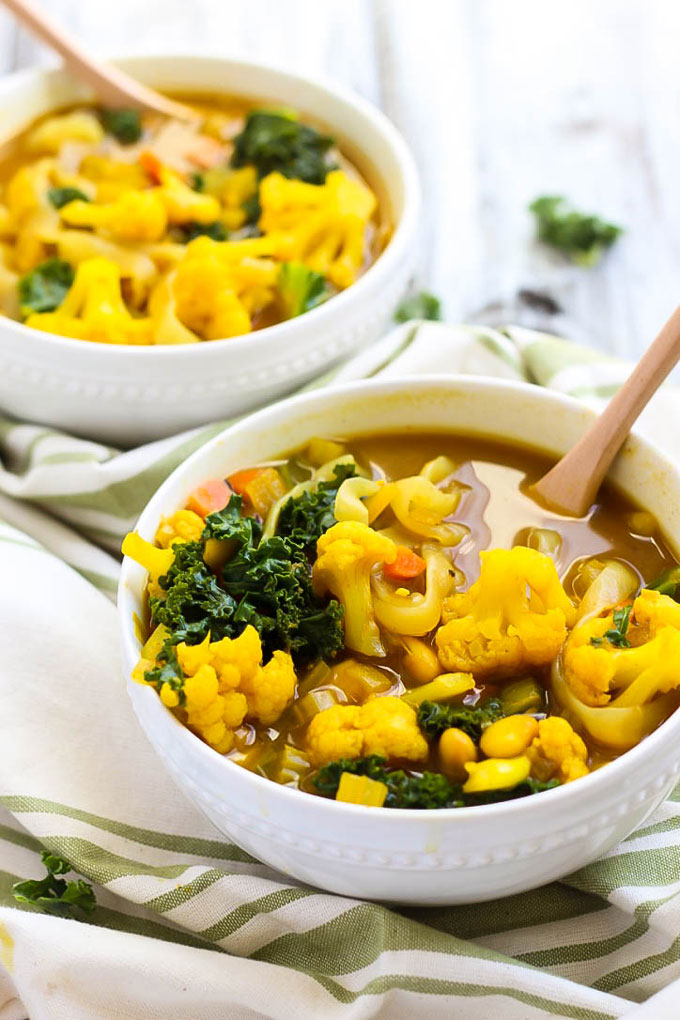 How to Make This Turmeric Soup
Recipes like this cauliflower vegetable soup are my go-to's on cold weeknights because they're so simple to make. You really can't mess up a soup and they're usually pretty hands-off recipes!
To make this turmeric soup, start by warming oil in a stock pot and sauteeing your onion until it starts to soften. Next add in the carrot and celery and continue to cook for a few minutes. Once the veggies are softened, add in all your spices and toast until they're nice and fragrant.
Once your spices are toasted, add in the broth and let it come to a boil, then reduce the heat and add in your cauliflower. You'll let the soup simmer while covered for about 15 minutes, or until your cauliflower is tender. Lastly, add in the beans and kale and just let everything warm up together!
I also threw in some shirataki noodles, which are basically noodles made from a certai type of yam (some are made from tofu). I added them for bulk, and I've been wanting to try them out.  Feel free to use any other kind of noodle (or spiralized veggie!) you'd like.
What to Serve with This Cauliflower Vegetable Soup
So many soups don't end up being inherently balanced meals – especially vegetable soups. There's a reason why sometimes it seems like you can eat endless bowls of soup.
Many vegetable soups are pretty low in protein and fats, which will leave us feeling like the tank is still empty. This cauliflower turmeric soup includes white beans for a boost of fiber and protein, and we're starting this soup on a base of veggies sauteed in olive oil for some of those healthy fats we love.
To really make this turmeric soup a full meal, serve it with a piece of avocado toast or flatbread on the side and you've got yourself a filling, comforting meal! This cauliflower soup would also be delicious served with a sandwich or wrap for lunch.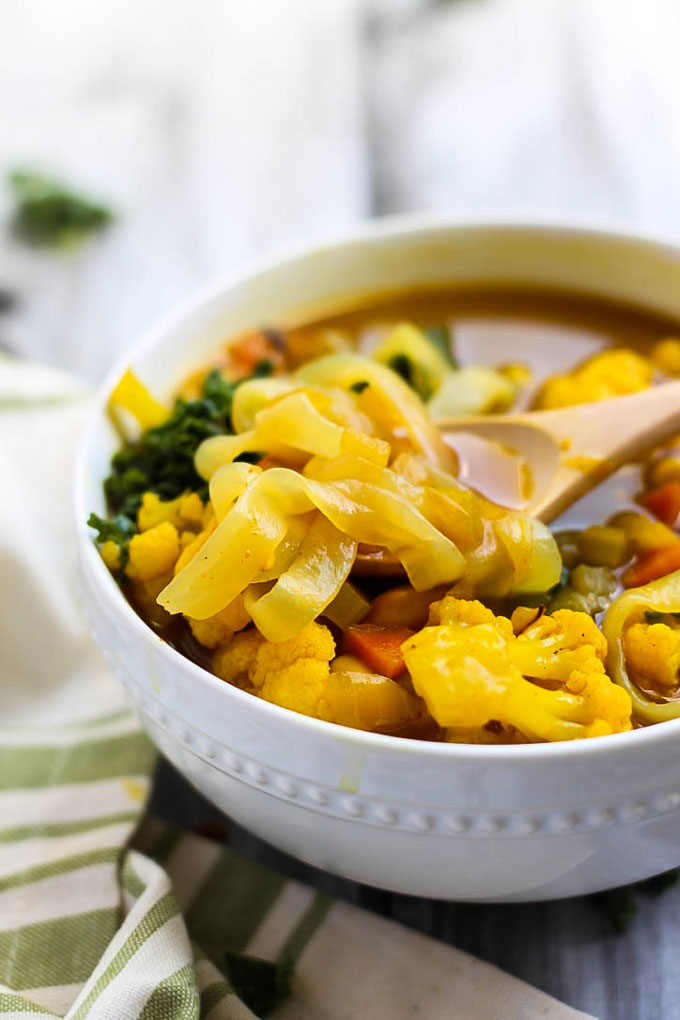 More Vegan Vegetable Soup Recipes
If you get to try out this delicious golden turmeric soup, let me know in the comments how you like it! If you're looking for more ways to warm up with a big bowl of coziness, check out these other vegan vegetable soup recipes!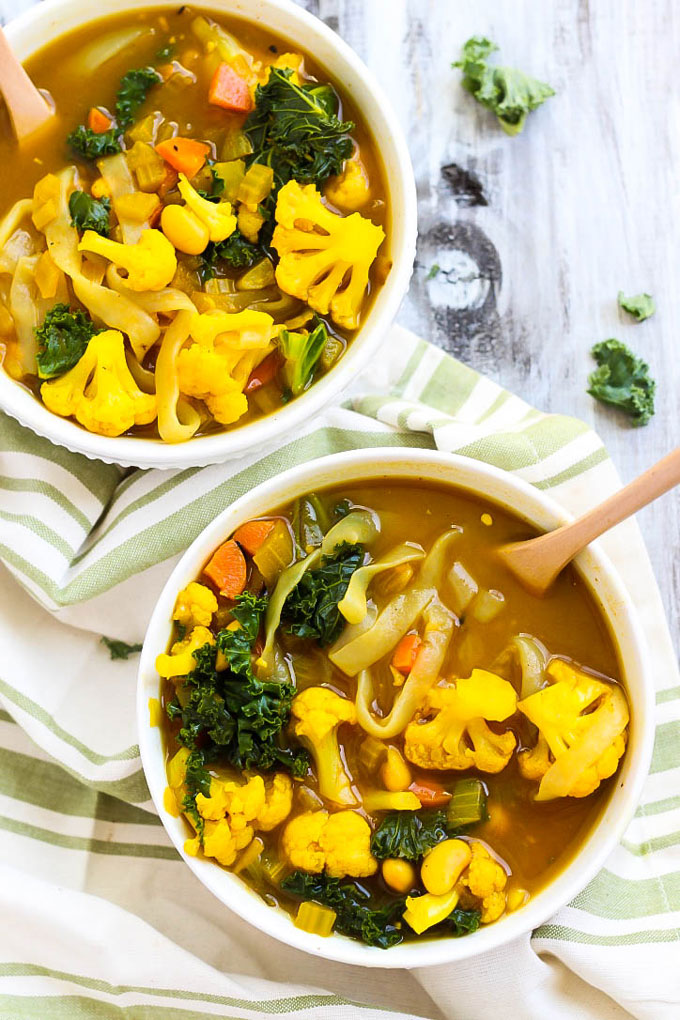 Print
How to make:
Cauliflower Turmeric Soup
Warm up with some nutrition-packed Cauliflower Turmeric Soup. This easy vegan vegetable soup will leave you feeling cozy and nourished.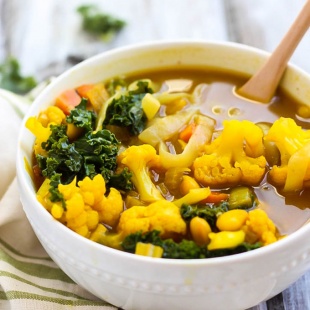 Ingredients
1 tablespoon

olive oil

1

onion, diced

2

ribs celery, finely chopped

1

medium carrot, finely chopped

2 teaspoons

garlic, minced (about

4

cloves)

1 tablespoon

McCormick Ground Turmeric

1/2 teaspoon

ground ginger

1/4 teaspoon

ground cayenne pepper

1

32-ounce carton vegetable broth

3

–

4

cups water

1 teaspoon

salt, plus more to taste

1/2 teaspoon

black pepper, plus more to taste

3 cups

cauliflower florets, chopped

1

15-ounce can Great Northern beans, drained and rinsed

1

bunch kale, chopped
Optional: 1 7-ounce package shirataki noodles, drained*
Instructions
In a large saucepan or pot over medium-low, warm oil. Add onion; stir. Cook for 5-7 minutes, until the onions begin to brown. Add carrots and celery; cook for 3-5 more minutes, until the vegetables soften.
Add turmeric, garlic, ginger, and cayenne; stir until the vegetables are coated. Cook for 1 minute, until fragrant.
Add broth, water, salt, and pepper; stir. Bring to a boil; reduce heat to low. Add cauliflower. Cover and simmer for 10-15 minutes, until cauliflower is tender.
When the cauliflower is fork tender, add beans, kale, and noodles. Cook until the kale is slightly wilted. Serve hot.
Notes
*You can substitute in any type of noodles you'd like. If you're using a dried pasta, cook the pasta separately and then add the cooked noodles to the finished soup
Thanks to McCormick for sponsoring this post! I love working with brands whose products I really love and would honestly recommend. Thank you for supporting this blog that I love oh-so-much so I can bring you delicious recipes!