This post was sponsored by McCormick. I only work with brands whose products and missions I truly believe in. Thanks for supporting my blog!
Hey there! How was your Easter weekend? Full of carrot cake and chocolate and all the good stuff?? I hope so. I really believe we need weekends like that every now and then – weekends where we can let loose and enjoy time spent and food eaten with our loved ones instead of worrying about the 6-month food baby we'll have later. Lettuce live a little.
Of course, most of the time I think it's good to make healthy choices and eat all the green things and nourish our bodies with the food we eat. This turmeric soup does just that. You'll be feeling mighty fine after a big bowl of this!
You'll really never hear me use the word "detox" in the way that some people use it. I get asked by so many friends how they can "detox" because they feel sluggish and tired. Then I tell them that maybe they should stop eating fast food and instant noodles all day and maybe they wouldn't feel so crappy – I keep it real, friends.
If you just go on a "detox," whether that be a super-strict clean eating regimen, a juice cleanse, or another crazy thing out there, and you continue your normal diet when you're done, what good does that do? You'll simply go back to feeling terrible and feel like you have to detox again. I just don't get the logic.
I tell everyone who asks me about detoxing to not do any sort of detox and instead just eat healthier. Eat more vegetables. Make daily swaps like whole grain over refined grains. Grilled over fried. It really is that simple, and your body will definitely thank you.
No crazy detox needed.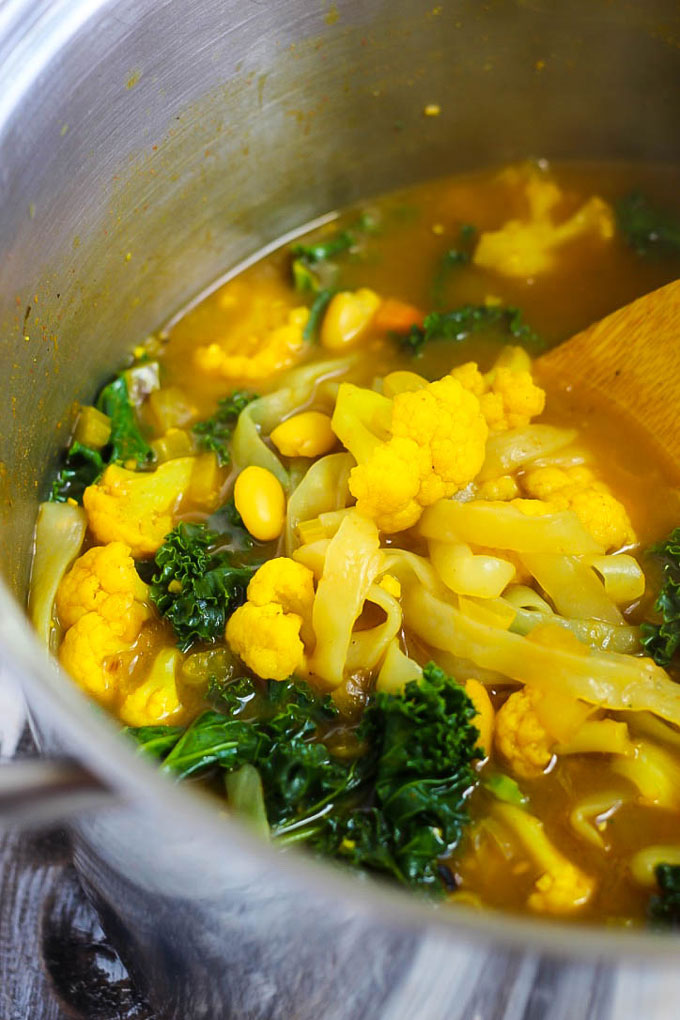 Even though I don't really believe in "detoxing," there are times when I need a hefty dose of nutrition, like after an indulgent holiday or birthday. It's just too bad vegan cookies can't fulfill all my nutritional needs.
For these times, I love to pack in all.the.veggies, and one of my favorite ways to do that is making soup! Soup is foolproof – there's really no secret to cooking it; you just add all your favorite veggies and add-ins with broth and let it cook. That's all there is to it!
I know it's March and things are heating up (especially down here in south Louisiana), but I'm one of those people who can enjoy a big bowl of soup any time of the year. Especially when it's this freaking gorgeous. Like, helloooooo supermodel soup!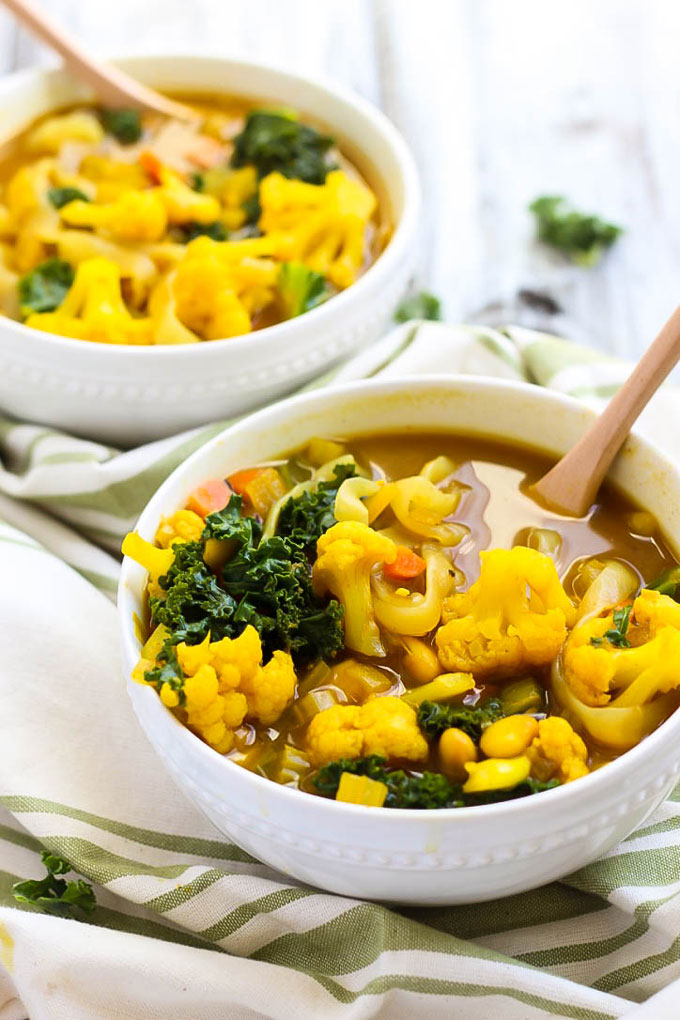 Have you guys ever cooked with turmeric? It's a vibrant yellow spice made from a root traditionally used in many Indian dishes. Nutrition Stripped took the health world by storm with her turmeric milk (it's delicious!), and Minimalist Baker blew me away with this vegan turmeric golden milk ice cream.
We're starting to see scientific evidence of the anti-inflammatory properties of curcumin, a compound in turmeric. So add it to everything to reap the benefits! It adds delicious flavor to soups like this recipe, but also oatmeal, baked goods and roasted squash.
I've been using McCormick spices since before I can remember, and their turmeric is so colorful and high quality! Plus, it's inexpensive. You can enjoy all the benefits of turmeric without breaking the bank!
It looks like turmeric is taking over the world, and I don't have a single problem with it. This turmeric soup is infused with the oh-so-healthy spice to help your insides get back to normal after lots of chocolate and fries. Plus, we've got tons of veggies like carrots, cauliflower, and the almighty kale, and some white beans for protein and filling power.
I also threw in some shirataki noodles, which are basically clear carb-free, calorie-free noodles made from a certain type of yam (some are made from tofu). I added them for bulk, and I've been wanting to try them out. They're a little slimy, but I liked them! Feel free to substitute any other kind of noodle (or spiralized veggie!) you'd like.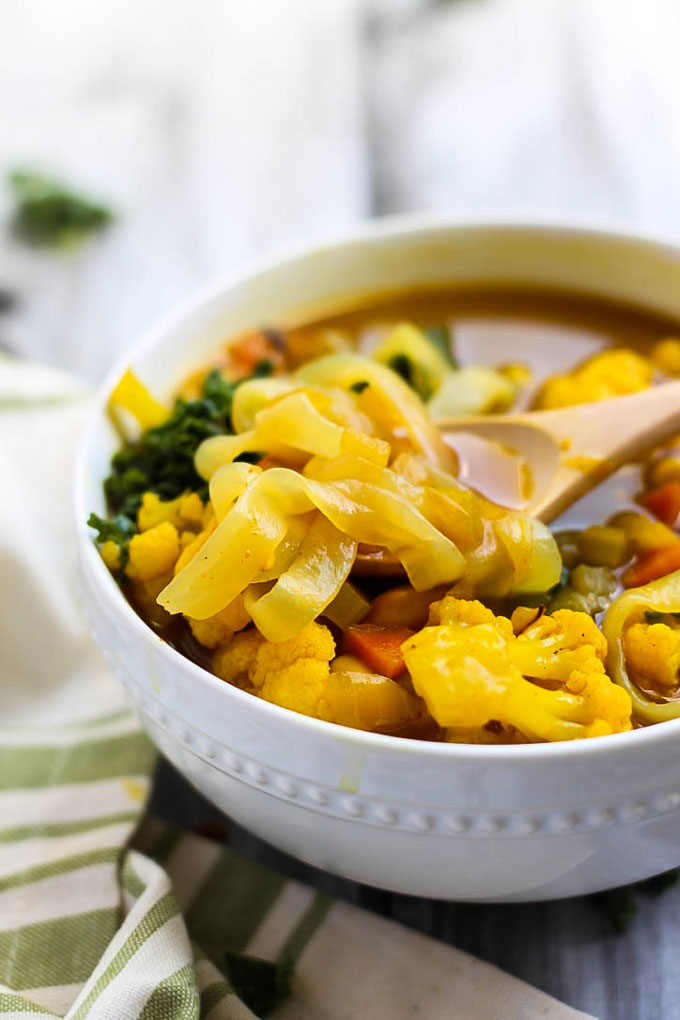 Remember that we all need days to indulge and not worry about every single food we eat or how we will burn it off. Let loose and enjoy yourself. But also eat your vegetables and kick ass in the gym. Balance, friends.
If you get to try out this delicious golden turmeric soup, let me know in the comments how you like it! Or snap a pic and share it on Instagram. I bet the beautiful color would make an A+ Insta pic.?
Have a good week lovelies!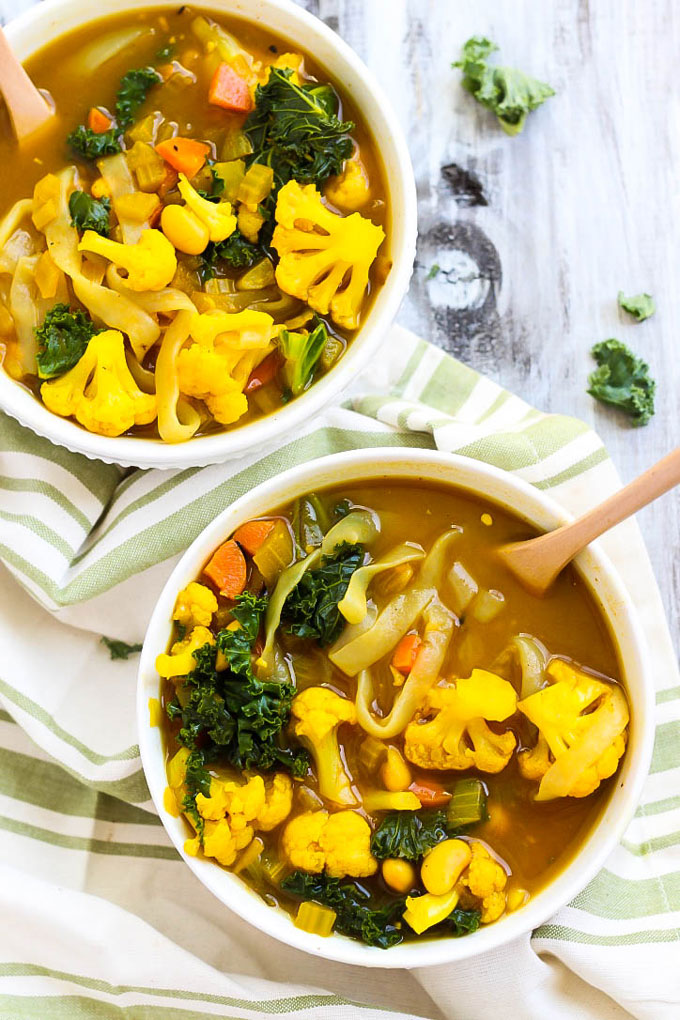 Print
How to make:
Cleansing Vegetable Turmeric Soup
Feed your body all the good stuff with some nutrition-packed Vegetable Turmeric Soup. Anti-inflammatory turmeric will cleanse you from the inside out!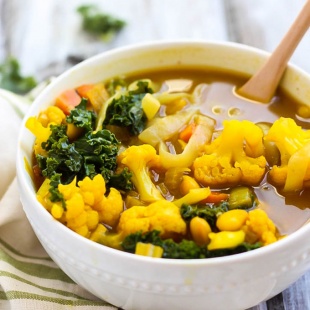 Ingredients
1 tablespoon

olive oil

1

onion, diced

1

medium carrot, finely chopped

2

stalks celery, finely chopped

1 tablespoon

McCormick Ground Turmeric

2 teaspoons

garlic, minced (about

4

cloves)

1/2 teaspoon

ground ginger

1/4 teaspoon

ground cayenne pepper

1

32-ounce carton vegetable broth

3

–

4

cups water

1 teaspoon

salt, plus more to taste

1/2 teaspoon

black pepper, plus more to taste

3 cups

cauliflower florets, chopped

1

15-ounce can Great Northern beans, drained and rinsed

1

bunch kale, chopped

1

7-ounce package shirataki noodles, drained*
Instructions
In a large saucepan or pot over medium-low, warm oil. Add onion; stir. Cook for 5-7 minutes, until the onions begin to brown. Add carrots and celery; cook for 3-5 more minutes, until the vegetables soften.
Add turmeric, garlic, ginger, and cayenne; stir until the vegetables are coated. Cook for 1 minute, until fragrant.
Add broth, water, salt, and pepper; stir. Bring to a boil; reduce heat to low. Add cauliflower. Cover and simmer for 10-15 minutes, until cauliflower is tender.
When the cauliflower is fork tender, add beans, kale, and noodles. Cook until the kale is slightly wilted. Serve hot.
Notes
*You can use any other noodle you'd like, but the cooking time and amount of liquid needed will change.
Thanks to McCormick for sponsoring this post! I love working with brands whose products I really love and would honestly recommend. Thank you for supporting this blog that I love oh-so-much so I can bring you delicious recipes!