Here's an easy 30-minute vegan meal! These Vegan Lettuce Wraps are filled with delicious teriyaki tempeh and packed with plant-based protein.
Vegan Lettuce Wraps with Teriyaki Tempeh
Teriyaki Tempeh Lettuce Wraps
I think it's no secret that I love a good tempeh recipe over here. But you know what I love even more? A delicious tempeh recipe that can also be made in under 30 minutes.
I love tempeh for three reasons:
It tastes good, duh
It's packed with plant-based protein
It's made from fermented soybeans – and you know I'm all about gut-friendly fermented foods.
Most of the time I just slice up some tempeh and pan fry or bake it with some simple spices and throw it in my lunch bowls. But tempeh can also be crumbled up into a delicious ground meat substitute. And that's exactly what we're doing today!
We're making vegan lettuce wraps and stuffing them with the most delicious teriyaki tempeh! These tempeh lettuce wraps make for a delicious, easy vegan dinner, and they're meal prep friendly so you can also make a big batch for easy lunches throughout the week.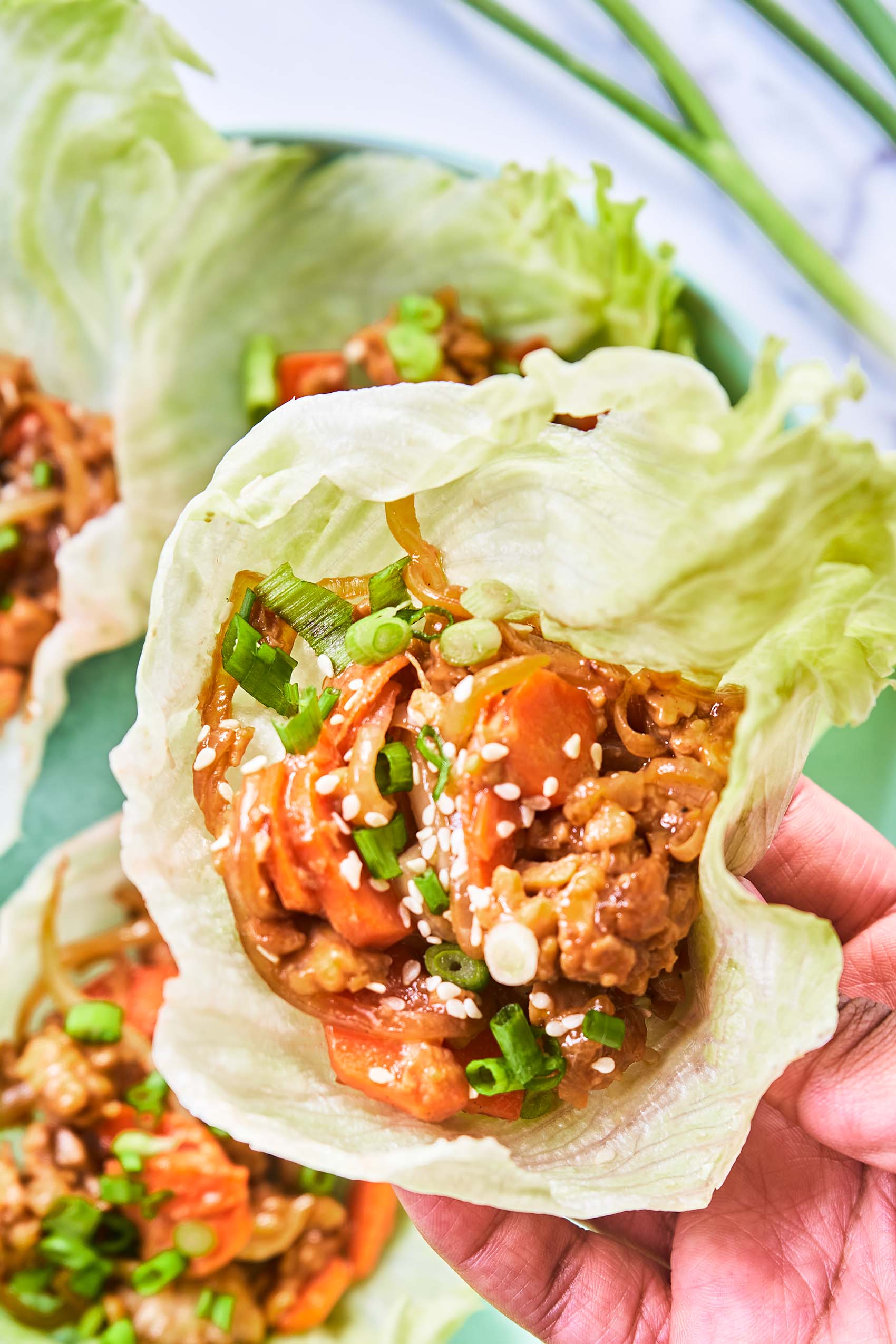 The Best Lettuce for Lettuce Wraps
I love mixing things up by opting for lettuce wraps every once in a while! The lettuce wraps are particularly delicious with this teriyaki tempeh because it adds so much freshness and crunch factor, which really compliments the hearty, saucy filling. Playing with contrasting textures is a great way to take your favorite meals to the next level! Plus, it's an easy way to get in some additional veggies.
When deciding on the best lettuce for lettuce wraps, you want to opt for something big, leafy and somewhat sturdy. Personally, I love a big head of iceberg lettuce – we need to stop hating on iceberg! It's crunchy, it's durable, and the leaves are big and round, which makes them perfect for holding a filling! You'll want to make sure to buy a whole head of lettuce so you can peel the leaves off yourself.
Alternatively, cabbage leaves and romaine also work well. Something like Boston bibb or butter lettuce are also great because they're the perfect size and shape to hold a filling, but they can be a bit more delicate, so I would double up on the leaves to make your lettuce wrap.
Now if you're one of those people whose like, "lettuce wraps? What? Bring on the carbs!!" then by all means, ditch the lettuce! I think this teriyaki tempeh would also be great in some spring rolls, in a tortilla or over a bed of rice.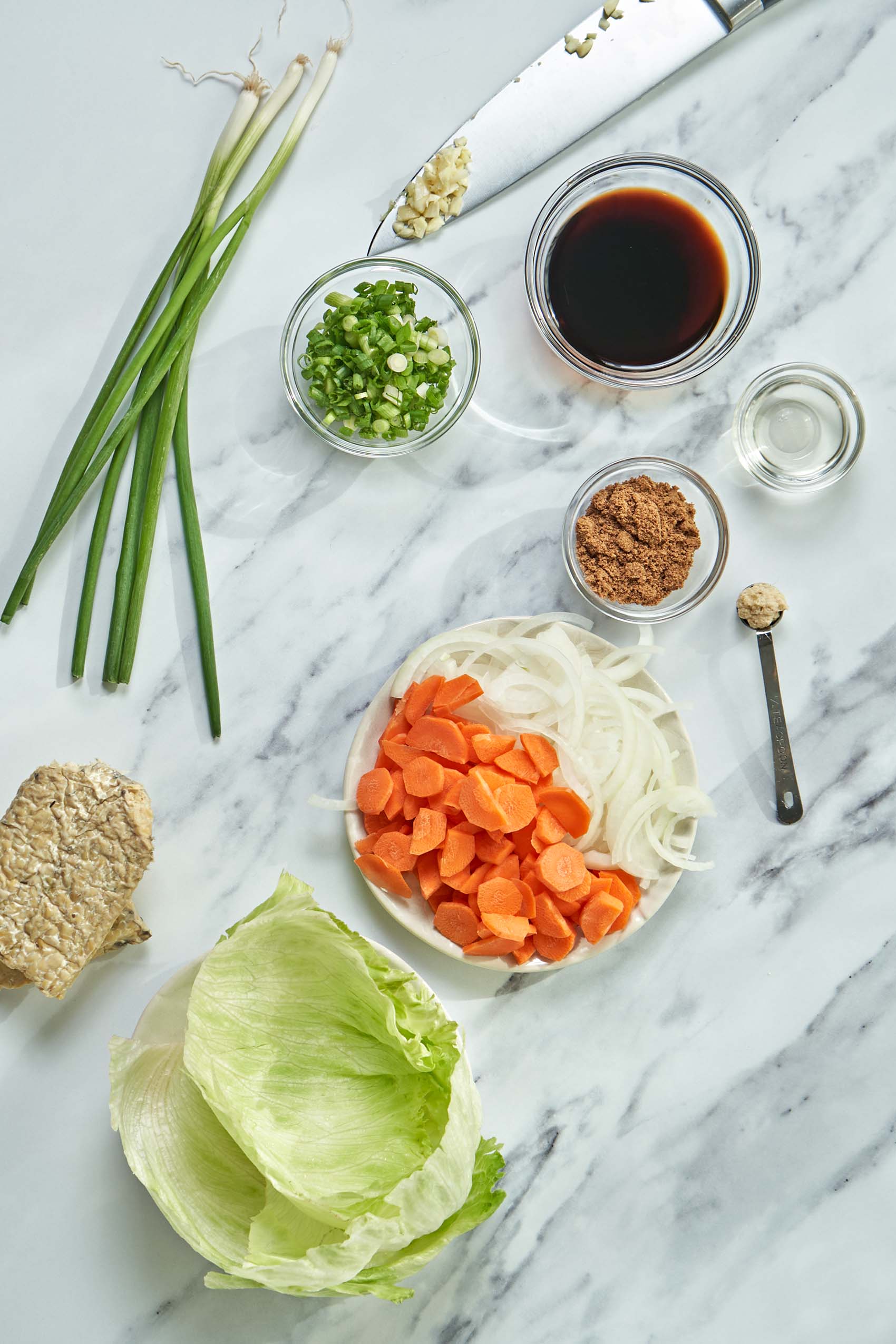 Ingredients for
Teriyaki Tempeh
Lettuce Wraps
You don't need much to make a flavor packed meal! These teriyaki tempeh lettuce wraps are made with ingredients that you likely already have in your pantry. Here's what you'll need to make them:
Tempeh. This teriyaki tempeh is packed with flavor and protein! You just need one block to make these vegan lettuce wraps, but you could totally double the recipe for the filling and use it in other meals throughout the week.
Soy sauce. If you prefer, you could use tamari or coconut aminos.
Coconut sugar. I really enjoy the flavor of coconut sugar in this recipe, but regular cane sure or brown sugar also work!
Rice vinegar. You'll want to use an unseasoned rice vinegar for this recipe.
Garlic. This recipe calls for 4 cloves, but feel free to scale up or down based on your preference.
Sesame oil. This adds so much flavor to our teriyaki tempeh.
Ginger paste. If you don't have ginger paste, you could also use an equal amount of ground ginger.
Olive oil. We're using the sesame oil to add flavor, but we'll use olive oil for the sauteeing.
Veggies. We're using onion and carrot in this recipe, but feel free to throw in whatever you have in the fridge! A bell pepper would also be good!
Salt and pepper. Of course!
Tapioca starch. This will help thicken the sauce for our teriyaki tempeh.
Lettuce. I recommend using a head of iceberg.
Green onion. For garnish and to brighten everything up!
How to Make Lettuce Wraps with Teriyaki Tempeh
I love making vegan lettuce wraps during the week because they truly couldn't get any simpler! All you have to do is make the filling, peel off your lettuce leaves, stuff and enjoy!
To make the teriyaki tempeh, start by mixing your soy sauce, sugar, vinegar, garlic, sesame oil and your ginger in a bowl. Then, crumble the tempeh into small pieces and mix it up in the teriyaki marinade. Make sure everything is well coated, then let it sit and soak up all the delicious flavor while you start cooking your veggies.
Get a pan on medium heat with some olive oil and sautee your onion for about 5 minutes or until it starts to brown. Then add in your carrots and continue to cook for another 5 minutes. Once your veggies are tender, add your teriyaki tempeh to the pan and cook for another 5 minutes. You'll want to cook until the tempeh starts to brown and crisp up. Finally, add in your tapioca starch and cook for a few minutes, or until the sauce is nice and thick.
Now all that's left to do is prepare your lettuce wraps and enjoy!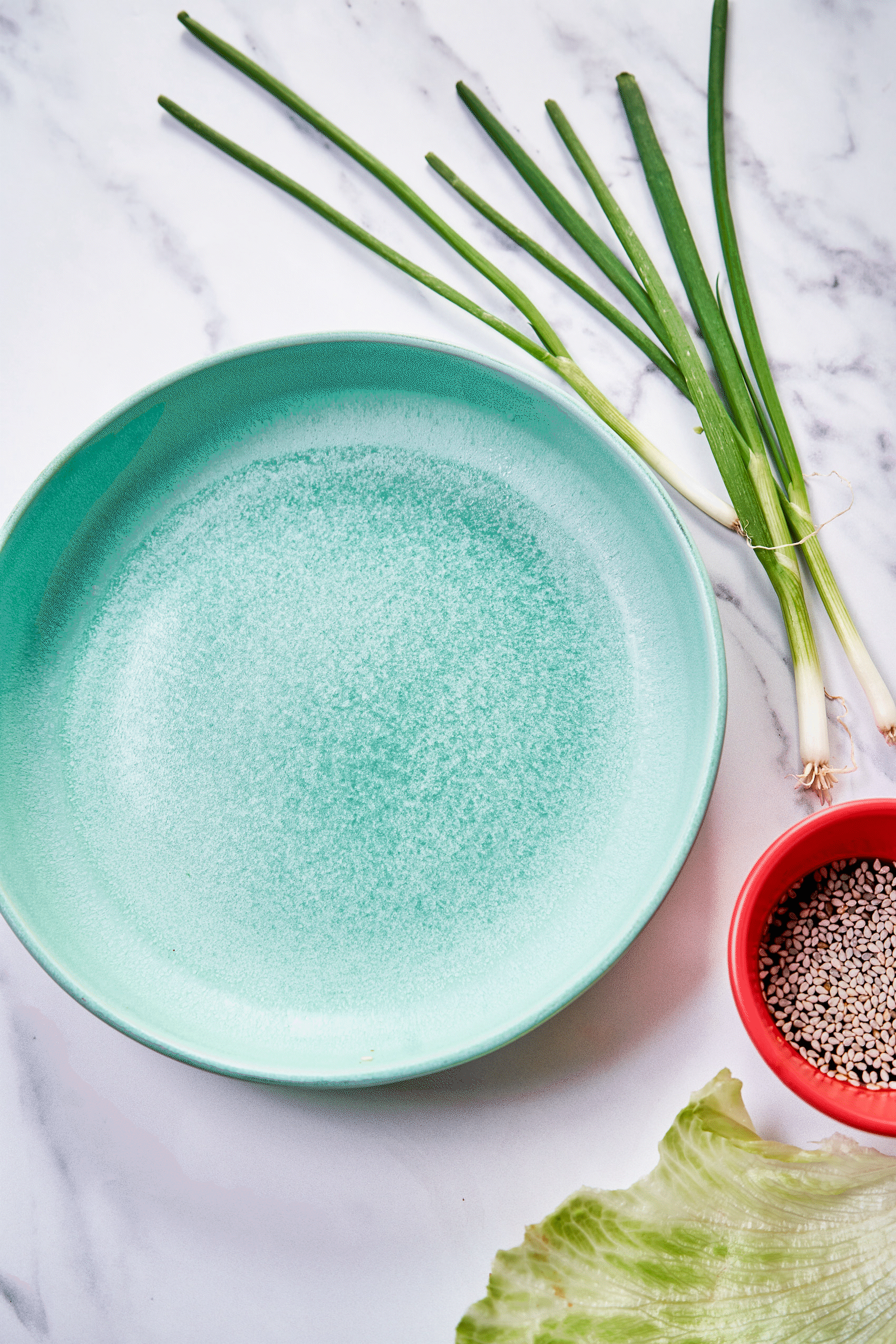 What to Serve with Lettuce Wraps
To am up these vegan lettuce wraps, I like to serve them with some extra fixings! Sliced green onion goes a long way to help brighten them up even more. For more umami goodness, you could also prepare a side of soy sauce and sesame seeds for dipping. If you like things spicy, a drizzle of sriracha or some sliced green chilis would really take things up a notch.
To make these teriyaki tempeh wraps into a more complete, well-balanced dinner, I recommend pairing them with a couple sides. White rice, brown rice, or quinoa would make a great side to include some carbohydrates to keep you feeling satisfied. You could even serve the filling over rice instead of in the lettuce wraps if you'd like. I also love eating these with a side or broccoli or a side salad for some added veggies.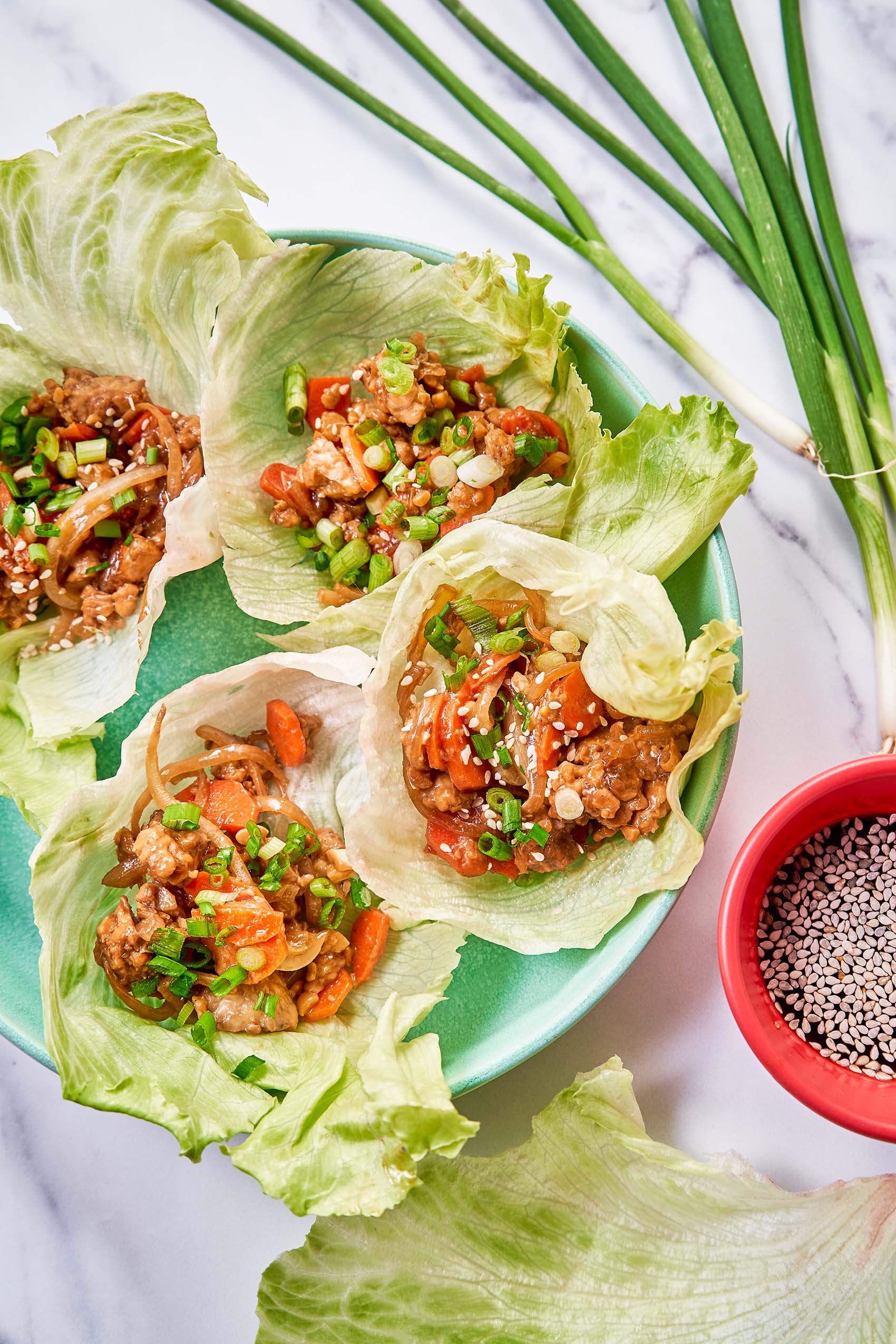 More Vegan Tempeh Recipes
Tempeh is a delicious plant-based protein to cook with, and it's super versatile! From tempeh stir fry, to vegan stuffed squash and a delicious cajun rice skillet, I've got lots of tempeh recipes to try! Check out some of these favorites below:
Print
How to make:
Vegan Lettuce Wraps with Teriyaki Tempeh
Here's an easy 30-minute vegan meal! These Vegan Lettuce Wraps are filled with delicious teriyaki tempeh and packed with plant-based protein.
Ingredients
1

8-ounce package tempeh

1/3 cup

organic soy sauce*

2 1/2 tablespoons

coconut sugar

1 tablespoon

rice vinegar

2 teaspoons

garlic, minced (about

4

cloves)

1 1/2 teaspoons

sesame oil

1/4 teaspoon

ginger paste**

1 tablespoon

olive oil

1

onion, thinly sliced

1

medium carrot, thinly sliced
Salt and pepper, to taste

1 tablespoon

tapioca starch

1

head lettuce
Green onions, thinly sliced, for topping
Instructions
In a medium bowl or shallow plate, add soy sauce, sugar, vinegar, garlic sesame oil and ginger. Whisk to combine.
Crumble the tempeh into small chunks; place in the soy sauce mixture and stir to coat. Set aside.
In a medium skillet or wok over medium-low heat, warm olive oil. Add onion; stir. Cook for 5-7 minutes, until onion begins to brown. Add carrots and stir; cook for 3-5 more minutes, until carrot softens.
Pour the tempeh mixture into the pan; stir. Cook for 5 minutes, until tempeh starts to brown. Add tapioca starch; stir. Cook for 2-3 more minutes, stirring continuously, until sauce thickens.
Spoon the tempeh mixture into each lettuce cup. Top with sliced green onions and serve.
Notes
*You can also use liquid aminos or tamari.
**You could also use an equal amount of ground ginger