As promised in my last sinfully sweet post, I've got a healthy dinner recipe for you! Since, according to my mom, "You're making a lot of sweets!" People love desserts, Mom – it's only my duty to give the people what they want.
But it's also that time of year where we're like, omg summer is coming? and we have to swap shoveling holiday desserts in our faces for actual healthy meals to get in shape! We can do it, friends. Let's start with some tempeh lettuce wraps!
I love tempeh for three reasons: 1. it tastes good, duh; 2. it's packed with protein; 3. it's made from fermented soybeans – and you know I'm all about gut-friendly fermented foods. Like my one love kombucha – I just can't get enough of the stuff.
Most of the time I just pan fry or bake some tempeh with some simple spices and throw it in my lunch bowls. Other times (like today!) I put on my thinking cap and get a little creative. Ever since I made this tempeh bacon over savory oatmeal, I've been dreaming up new ways to cook tempeh.
Ding ding ding we have a winner!!!?? Hearty, perfectly sweet and salty, with all the delicious Asian flavors you love.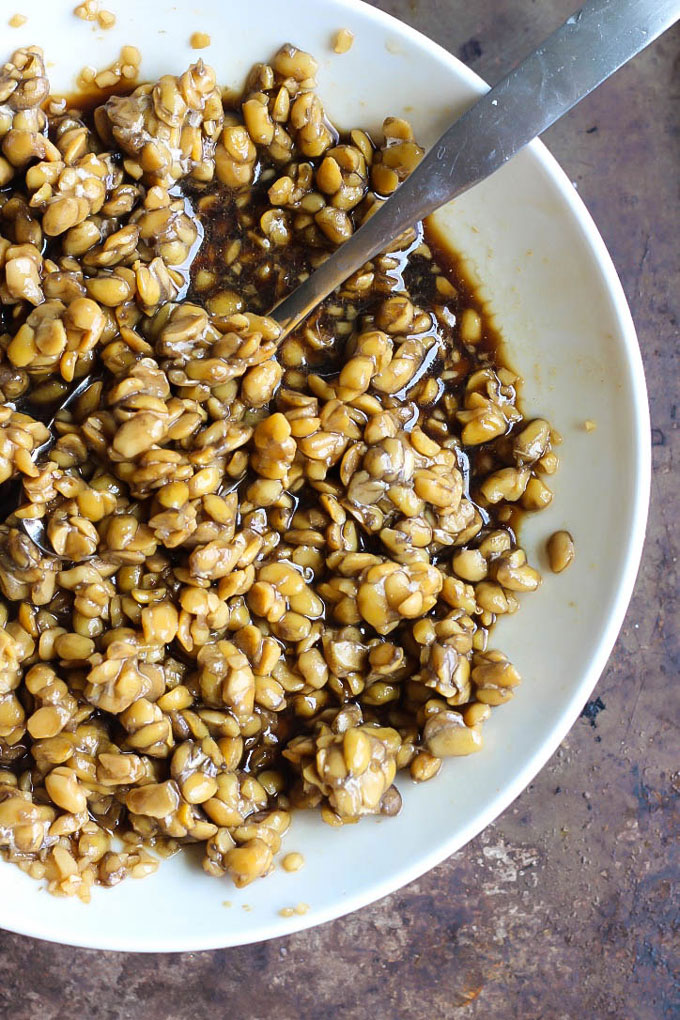 My favorite part about this recipe, besides the fact that it tastes like your favorite unhealthy Asian takeout, is that it comes together in about 30 minutes. Say whaaaaat?! That's right, from pan to plate in 30 minutes, and plate to mouth in about 2.7 seconds 'cause that's just how we roll around here.
Side note: is there anything better than the smell of sweet, caramelized onions? I think not.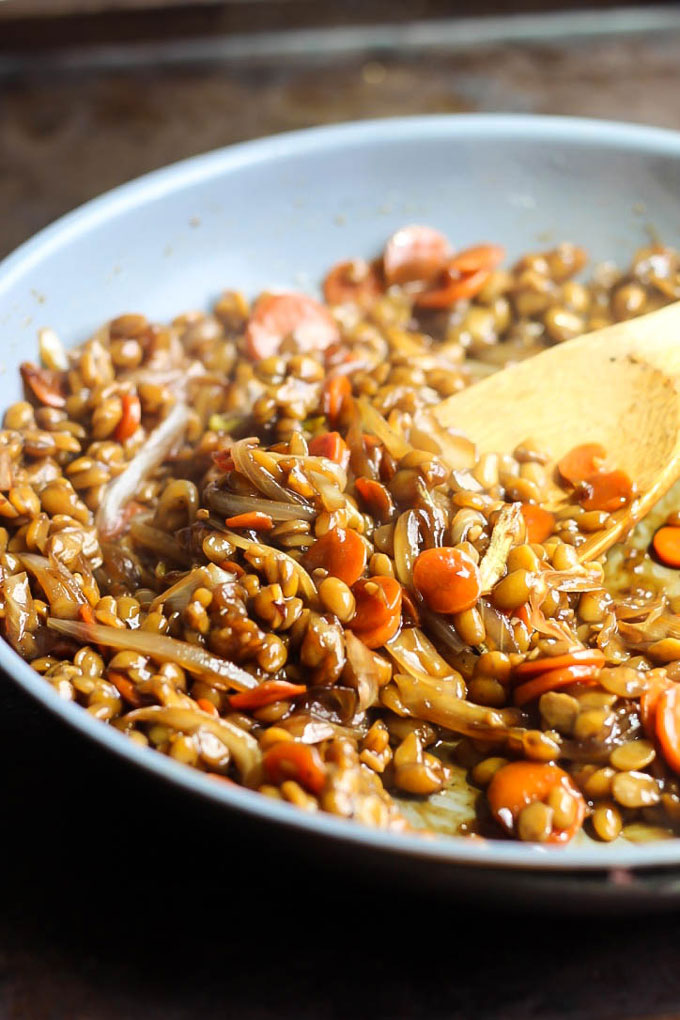 We're going the lettuce wrap route here because I know with spring in full swing, we want lighter meals that still fill us up but won't make us want to take a 4-hour nap after. The teriyaki tempeh is full of protein for filling power, making it perfect to pack the leftovers for lunch. I definitely get through my day better when I get to enjoy a lunch as delicious and healthy as this – it gives me all the winning feels.
Now if you're one of those people whose like, lettuce wraps? What? Bring on the carbs!!, by all means, stuff some of this in a tortilla and call it a day. I applaud people like you. I think this would also be great in some spring rolls or over a bed of rice. No matter which way you decide to stuff your face with this, I love serving it with a side of fresh veggies like greens beans or broccoli. So we can all feel good about being the healthy meal champs that we are.?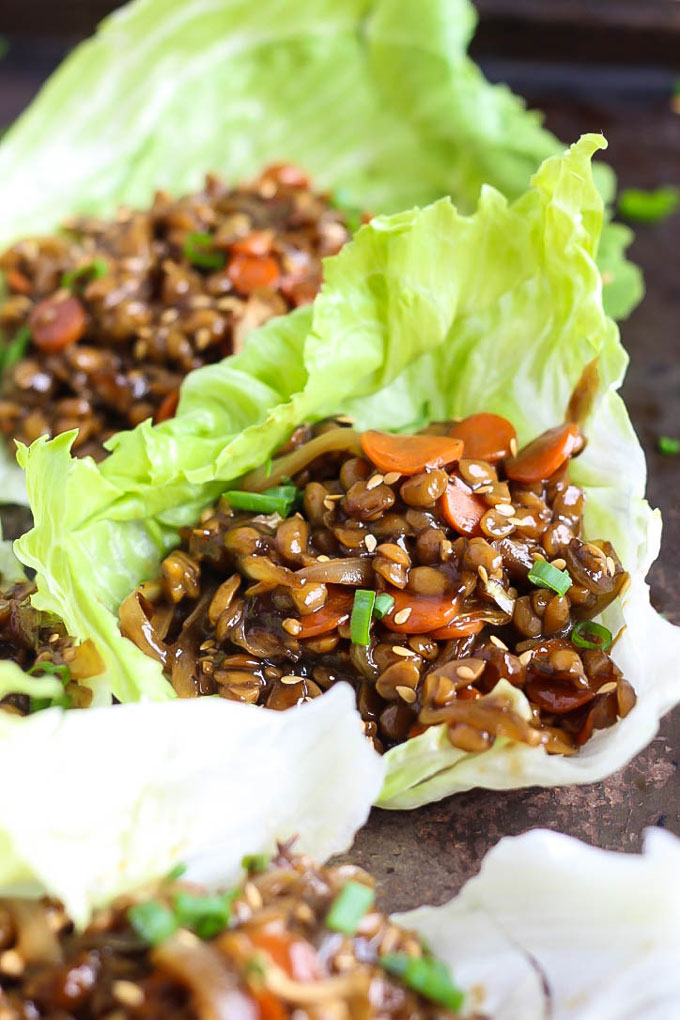 You're definitely going to be seeing a lot more healthy meal ideas around here, so get ready! But don't worry – I still have some sweet things up my sleeve for all you sweet-toothers.
If you get to try these tempeh lettuce wraps, snap a pic and post it on Instagram! You guys post some scrumptious pictures of my recipes that make my heart so happy. <3
What's your favorite light spring recipe?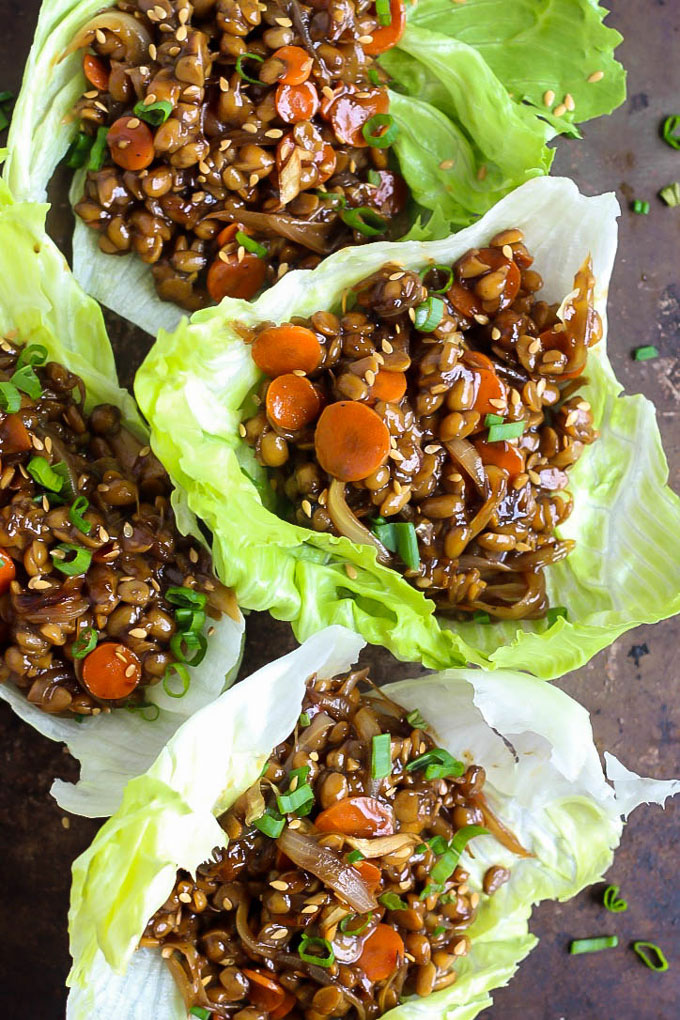 Print
How to make:
Teriyaki Tempeh Lettuce Wraps
A protein-packed dinner that's ready in 30 minutes, these Teriyaki Tempeh Lettuce Wraps are a delicious light recipe that won't weigh you down!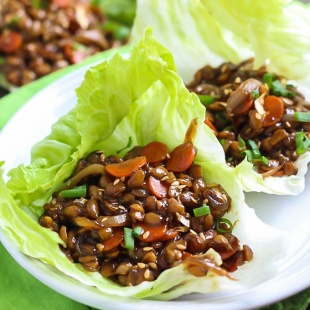 Ingredients
1

8-ounce package tempeh

1/3 cup

organic soy sauce*

2 1/2 tablespoons

coconut sugar

1 tablespoon

rice vinegar

2 teaspoons

garlic, minced (about

4

cloves)

1 1/2 teaspoons

sesame oil

1/4 teaspoon

ground ginger

1 tablespoon

olive oil

1

onion, thinly sliced

1

medium carrot, thinly sliced
Salt and pepper, to taste

1 tablespoon

tapioca starch

1

head lettuce
Green onions, thinly sliced, for topping
Instructions
In a medium bowl or shallow plate, add soy sauce, sugar, vinegar, garlic sesame oil and ginger. Whisk to combine.
Crumble the tempeh into small chunks; place in the soy sauce mixture and stir to coat. Set aside.
In a medium skillet or wok over medium-low heat, warm olive oil. Add onion; stir. Cook for 5-7 minutes, until onion begins to brown. Add carrots and stir; cook for 3-5 more minutes, until carrot softens.
Pour the tempeh mixture into the pan; stir. Cook for 5 minutes, until tempeh starts to brown. Add tapioca starch; stir. Cook for 2-3 more minutes, stirring continuously, until sauce thickens.
Spoon the tempeh mixture into each lettuce cup. Top with sliced green onions and serve.
Notes
*You can also use liquid aminos or tamari.