These vegan stuffed peppers are super weeknight friendly! You can whip up these easy stuffed peppers in just about an hour.
Vegan Stuffed Peppers
Did anyone else just get a total blast from the past looking at this tray of vegan stuffed bell peppers? Because I did making them!
This is one of those classic recipes that can be spun a million different ways, but this is my take on a classic stuffed bell pepper – and they're entirely plant-based! These vegan stuffed peppers are filled with rice, ground beef, tomato-ey goodness and plenty of cheese just like the ones you ate growing up.
If you find yourself wondering how to eat more vegetables, stuffed bell peppers are a great way to get an extra serving! A halved bell pepper is the perfect vessel to hold delicious all of the delicious fillings. And when you roast peppers in the oven, they blister a bit on the outsides, soften up a bit on the inside and get super juicy. Plus, bell peppers naturally come in a variety of colors based on their ripeness, so it's a great way to eat the rainbow with just one vegetable!
But before we get into it I have to know – do you make your stuffed peppers by cutting the tops off of your bell peppers, or by halving them down the middle?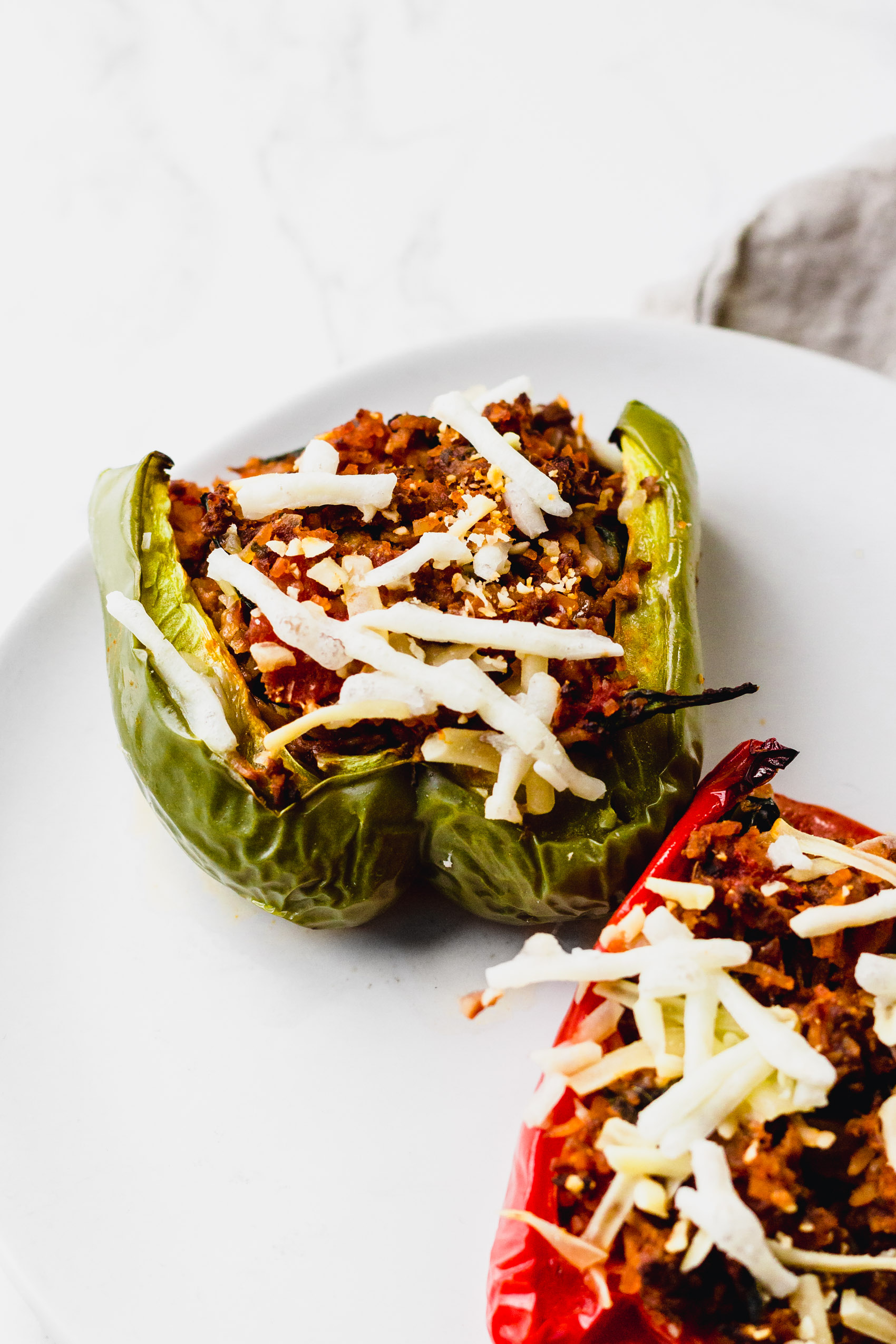 Ingredients for Vegan Stuffed Bell Peppers
These vegan stuffed peppers are part of my Basics series, where I've been making super basic, vegan versions of classic recipes – no crazy ingredients, no fancy twists. So in the spirit of keeping things simple, the ingredient list is pretty simple. Here's everything you'll need to make these easy stuffed peppers:
Rice. You can use any variety you'd like.
Bell peppers. Pick any color you'd like! I used a mix of red and green, but any color is good in my book!
Vegan ground beef. This could be something like Beyond Beef Plant-Based Ground, Impossible Plant-Based Burger Ground or your favorite vegan crumbles. You could also use something like tofu, but I would plan to season a little more heavily than the recipe calls for to make up for missing salt that you would get from the vegan ground beef.
Yellow onion. Like so many good recipes, this one starts with a base of sauteed onion.
Garlic. I'm using three fresh cloves, but feel free to scale up or down.
Tomato paste. This will make your stuffed pepper filling rich and saucy, which is exactly how we want it!
Diced tomatoes. From a can is totally fine, they don't have to be fresh!
Spinach. I like to toss in a bit of spinach for some added greens because you hardly notice it in the mixture, but you can totally leave this out if you prefer.
Italian seasoning. If you don't have a pre-made Italian seasoning blend, reach for all your favorite dried herbs.
Salt and pepper. Of course!
Vegan shredded mozzarella cheese. They're not stuffed peppers with a sprinkle of cheese on top!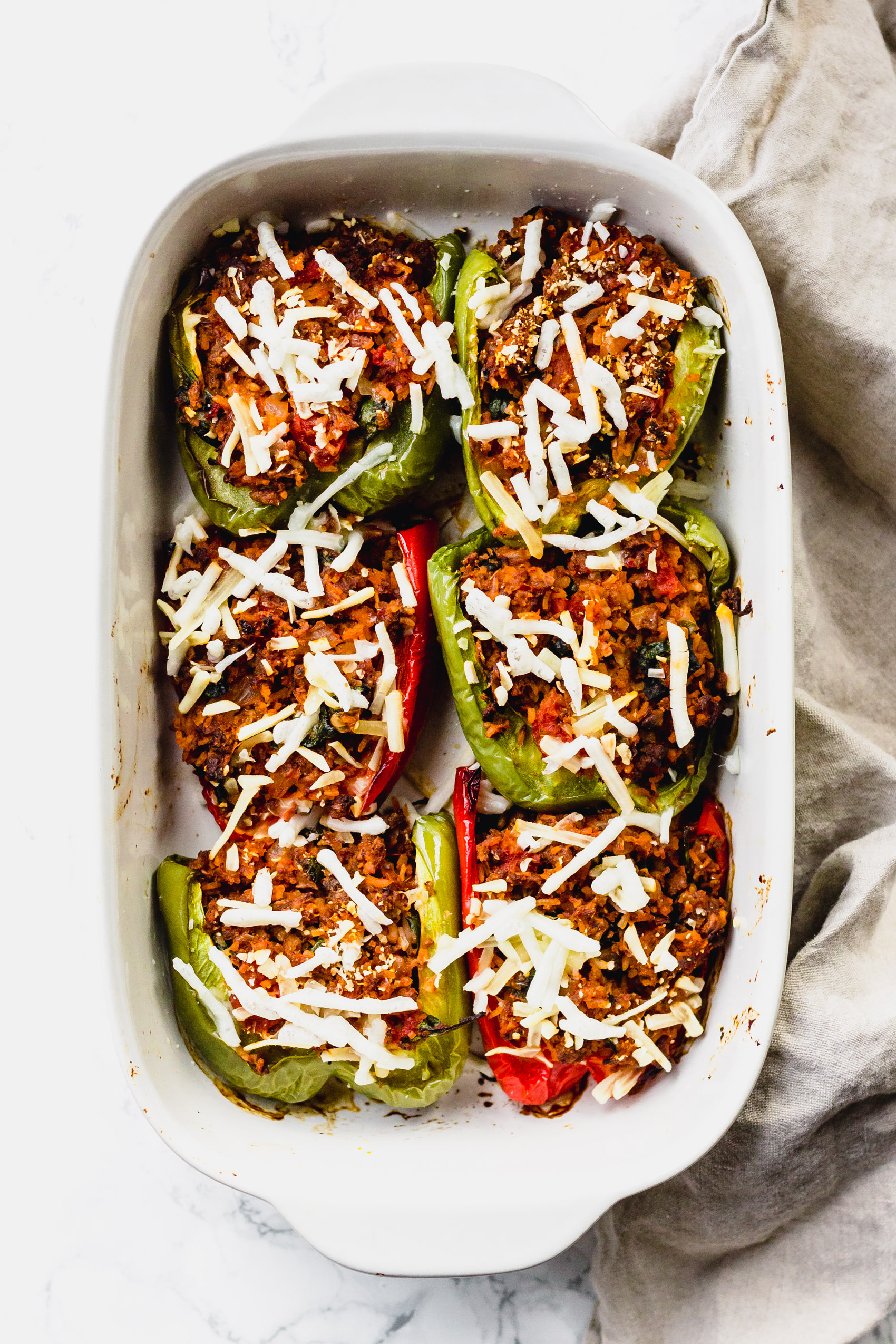 How to Make Stuffed Peppers 
These vegan stuffed peppers will take a little over an hour to make, but most of the cook time is hands-off! Once they're in the oven, there's not much left to do but watch your stuffed bell peppers bake and wait in anticipation. All you have to do to make this vegan stuffed peppers recipe is:
Cook your rice
Cut your peppers
Cook your vegan ground beef with onion, garlic, tomato paste, diced tomatoes, spinach and seasonings
Fill your peppers with rice, vegan ground beef and cheese
Bake covered with foil in a 350ºF oven for 30 minutes, then remove the foil and bake for another 5 minutes until the cheese has melted
That's all there is to it! Not only is it super simple to make, but I assure you it might just be the best stuffed peppers recipe I've ever made.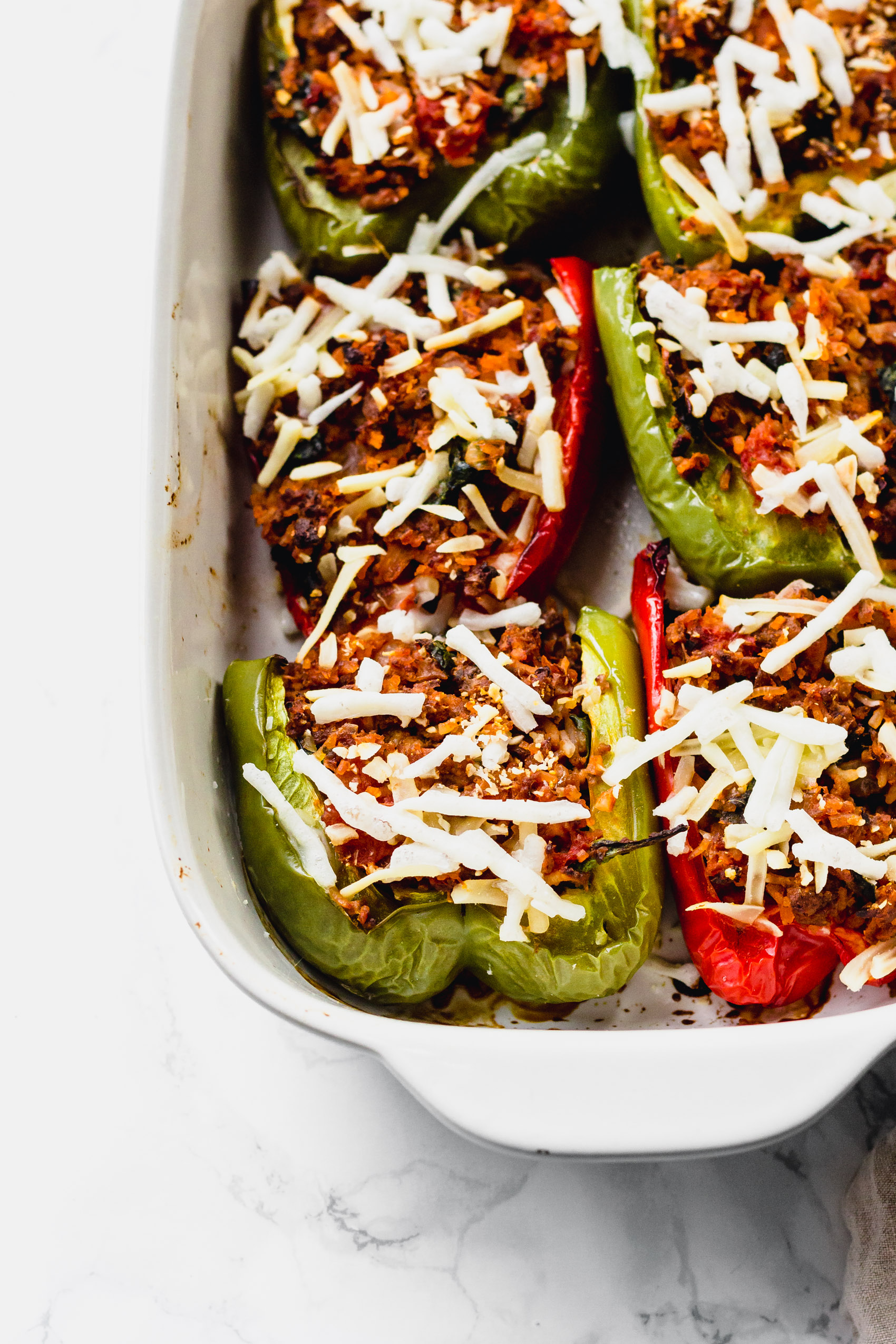 More Vegan Bell Pepper Recipes
There are plenty of ways to cook with bell peppers other than making a batch of stuffed peppers (although you should definitely make a batch of these before you move on to these other recipes!) If you're looking for more inspiration on how to cook with them, check out these other delicious vegan bell pepper recipes: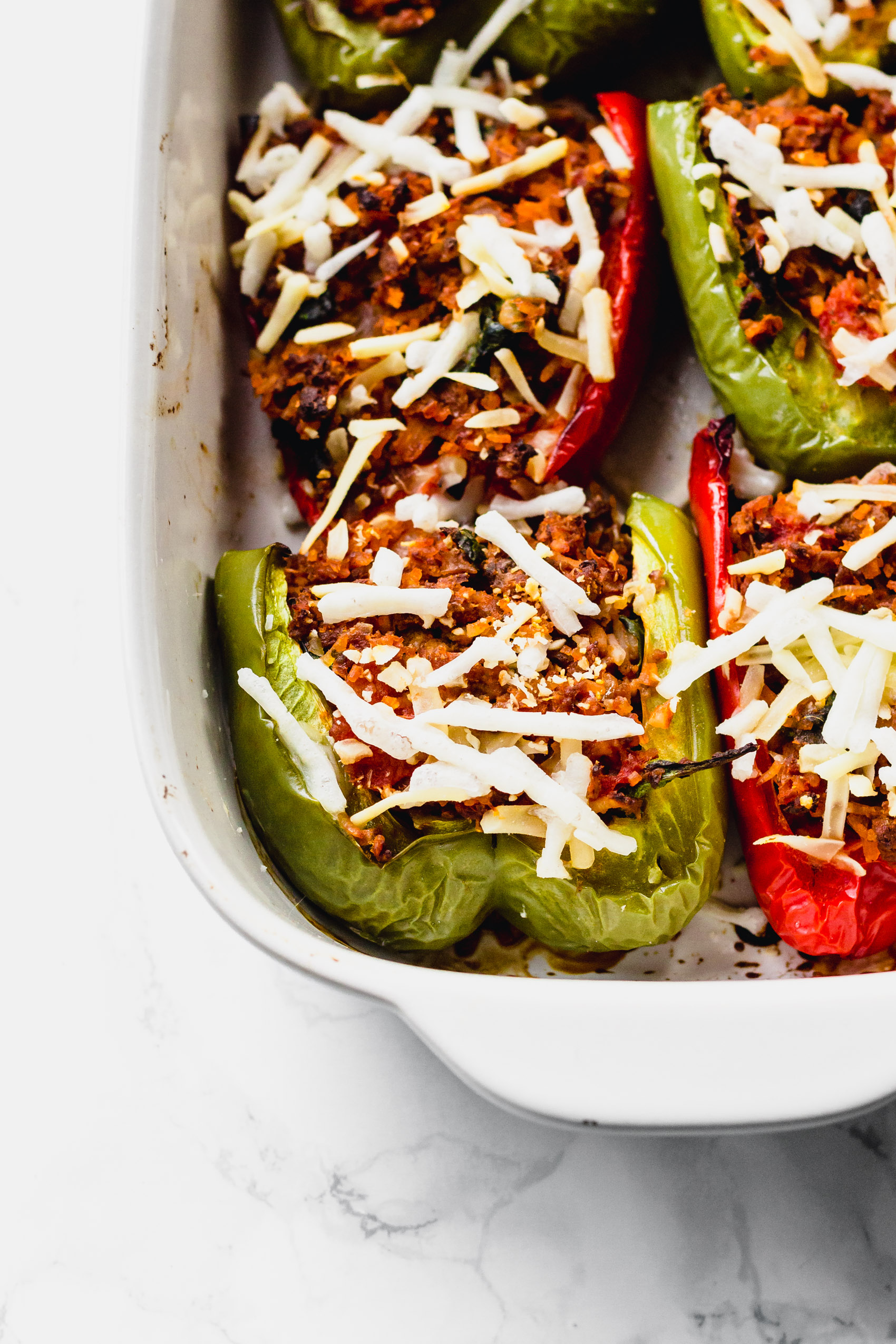 Print
How to make:
Vegan Stuffed Peppers
These vegan stuffed peppers are super weeknight friendly! You can whip up these easy stuffed peppers in just about an hour.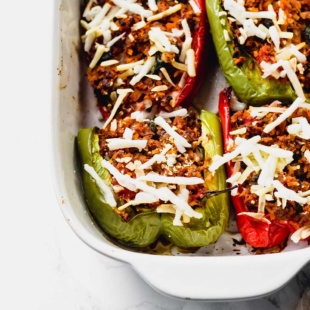 Ingredients
2/3 cup

uncooked rice (any variety works)

6

bell peppers

1

pound vegan ground beef*

1

yellow onion, diced

3

cloves garlic, minced

2 tablespoons

tomato paste

1

14.5-ounce can diced tomatoes

2 cups

spinach, chopped (optional)

2 teaspoons

Italian seasoning

1/4 teaspoon

ground black pepper
Salt, to taste

1 cup

vegan shredded mozzarella cheese
Instructions
Preheat oven to 350ºF.
Cook rice according to package directions. You should have about 2 cups of cooked rice.
Cut the tops off of the bell peppers and remove the core. Place bell peppers in a baking dish. (You can also cut the bell peppers in half and place them in the baking dish, as shown in the photos.)
In a medium pot over medium heat, add vegan ground beef. Cook until browned, about 5 minutes. Add onion, stir, and cook 5-7 minutes, until onions are lightly browned. Add garlic, stir, and cook for 1 minute. Add tomato paste and stir; cook for another minute. Add diced tomatoes, spinach, Italian seasoning, and pepper. Stir, taste, and season with salt if desired.
Spoon the stuffing mixture into the bell peppers until all stuffing is used. Top bell peppers with cheese.
Cover pan with foil. Bake for 30 minutes, then remove foil and bake for 5-8 minutes, until cheese is melty.
Notes
*Examples of this are Beyond Beef Plant-Based Ground and Impossible Plant-Based Burger Ground. You could also use vegan ground crumbles. Textured vegetable protein (TVP) or 1 block tofu would work, but you will have to compensate for missing flavor and sodium with more spices and salt.