Full of greens and beans, this Greek Quinoa Buddha Bowl is the ultimate healthy lunch or dinner. It's ready in 20 minutes and packed with fresh flavors! Plus, I'm sharing a special announcement – you won't want to miss it.
I'm so excited that I just want to jump on my roof and start shouting and dancing!!! Anyone else ever feel that way? No? Well, this is awkward…
Why am I so excited? Welllllll, friends, today on this little blog of mine, I'm finally announcing the release of my eBook Vegan on a Budget! I had the vision for this eBook a few months ago and worked on it tirelessly all summer, and now it's finally done and beautiful and everything I hoped it would be. The best part is that now it's ready for YOU.
So what's Vegan on a Budget all about? One of the biggest struggles I hear from people about eating healthy is the price. It seems to be the popular opinion that buying whole, fresh foods is way more expensive than the McDonald's drive-thru and frozen meals. I'm here to tell you that is not the case. You can eat healthy, fun and delicious food without breaking the bank.
Doesn't that sound amazing?! Let's talk a little bit about what's included in Vegan on a Budget…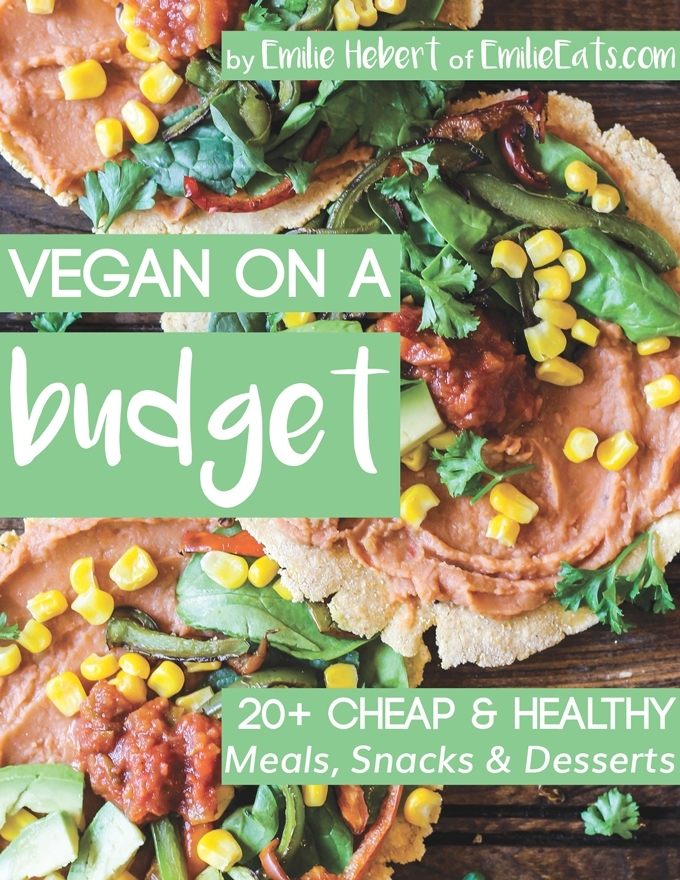 Along with the amazing Greek Quinoa Buddha Bowl recipe I'm sharing with you in this post, Vegan on a Budget includes:
20+ breakfast, lunch, dinner, snack, and dessert recipes
Price per serving for every recipe (under $3 for all of the recipes!)
Money-saving tips
A two-week meal plan for $50 per week
Grocery shopping lists for meal plans
I didn't just want to make a bunch of recipes and say "these are cheap!" If you're anything like me, you want proof and numbers and hard evidence. I did the dirty work, crunched the numbers, and figured out the price per serving for every recipe. (Yes, I enjoyed it. I'm a nerd.) The price per serving for every recipe is under $3! Try finding a nutritious meal for that cheap in a drive-thru.
The eBook also includes a two-week sample meal plan to give you a rough outline of a cheap week of vegan eats. Each week comes out to about $50! Of course, this will depend on how much you're eating and how many mouths you're feeding, but regardless, these recipes are very inexpensive and easy to prepare!
Oh, and you definitely don't have to be vegan to enjoy the recipes in here. From Apple Pie Oat Pancakes to Zucchini Spaghetti with Tempeh "Meat" Sauce to Build-Your-Own Mexican Pizzas, and of course a Chocolate Brownie Mug Cake, anyone will enjoy these flavorful, whole food recipes. And everyone could use more plants in their diet!
[Tweet "You DON'T have to break the bank to eat healthy! Cheap, easy, delicious meals –>"]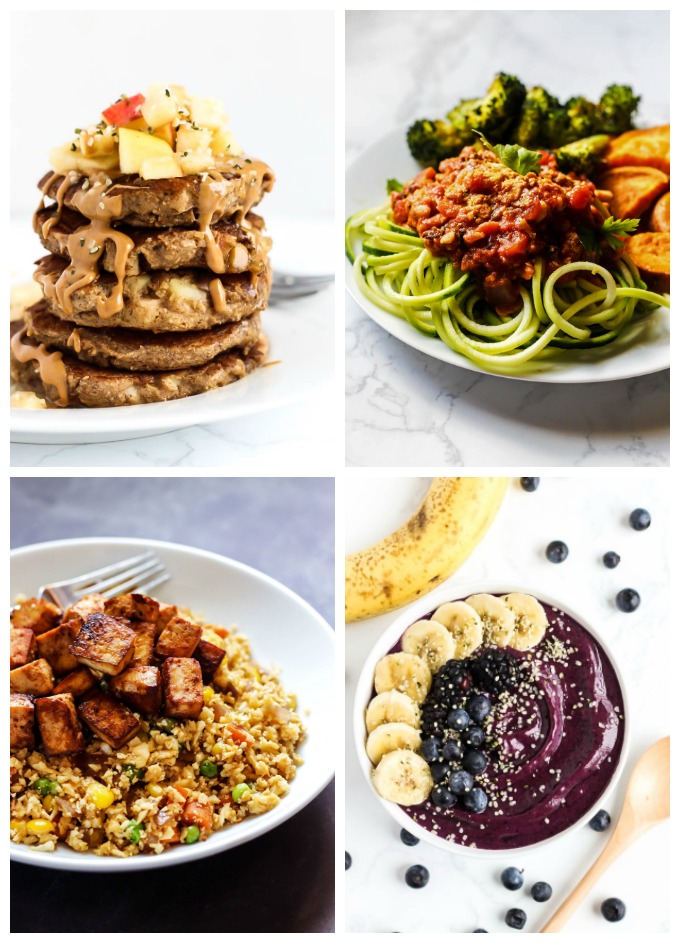 This colorful Greek Quinoa Buddha Bowl is one of my favorite recipes from the eBook because 1. it's a rainbow of health, and 2. it's a simple meal I make almost every week! The flavors of parsley, tomatoes and hummus complement hearty chickpeas and quinoa so well. It's a Big Fat Greek Party in your mouth.
If you want to eat healthy, wholesome meals without breaking the bank, I think you would definitely love this eBook. After all, I created it for YOU – because I want to help you live healthier and happier lives.
I also have a special bonus for us! The official release date is October 14, but you can get a special discount if you pre-order the eBook early! Go go go!
To learn more about Vegan on a Budget, click here!
If you try this Greek Quinoa Buddha Bowl from the eBook (or any recipe from the eBook!), let me know how you like it! Tag me in your colorful Instagram pictures so I can drool over my phone screen. <3
Print
How to make:
Greek Quinoa Buddha Bowl & A Special Announcement!
Full of greens and beans, this Greek Quinoa Buddha Bowl is the ultimate healthy lunch or dinner. It's ready in 20 minutes and packed with fresh flavors!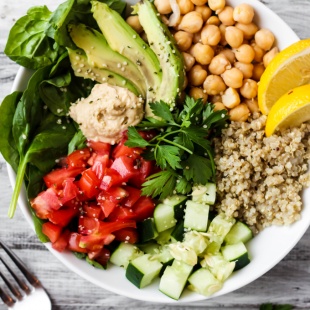 Ingredients
1/2 cup

dry quinoa

1 cup

water

4 cups

spinach

1 1/2 cups

chickpeas, or

1

15-ounce can, drained and rinsed

1

tomato, chopped

1 cup

cucumber, chopped

1/2 cup

parsley, finely chopped

1

avocado, thinly sliced

1/2 cup

hummus

1/4 cup

hemp seeds

1

lemon, sliced into wedges
Salt and pepper, to taste
Instructions
In a medium pot over high heat, add quinoa and water; bring to a boil. Cover; simmer for 13-15 minutes, until fluffy.
In a bowl or plate, add 1 cup spinach. Add 1/4 of the quinoa, 1/4 of the chickpeas, 1/4 tomato, 1/4 cup cucumber, 2 tablespoons parsley and 1/4 avocado. Top with 2 tablespoons hummus, 1 tablespoon hemp seeds and the juice of one lemon wedge. Season with salt and pepper.