You need these Vegan Sliders on game day! These chipotle seitan sliders are done in just 30 mins. They're the perfect vegan superbowl food! In partnership with my friends at Sweet Earth Enlightened Foods. ❤️
Southwestern Vegan Sliders
Name a more perfect vegan superbowl food than sliders – I'll wait.
For real though, you need to make a batch of vegan sliders for game day. I love making sliders for any kind of casual entertaining because they're perfect for any sort of meal you're trying to serve. They're perfectly sized for an easy snack, they're delicious as an appetizer or they can be a full meal if you have a couple of 'em!
And these Southwestern Vegan Sliders? It really doesn't get much better than these honestly. They're a little spicy thanks the the chipotle seitan we're using, they take just 30 minutes to make and they're UNREAL with a drizzle of vegan cheese sauce if you really want to amp it up. If you ask me, they're a total touchdown. 🙂
For a long time, sandwiches and burgers were a fear food for me. TWO pieces of thick bread with lots of things stuffed in between??? They made me really anxious, and I hardly ever let myself have a real sandwich. Ah, it makes me sad just thinking about it.
But wait! There's a happy ending! I'm at a place where I totally allow myself to have a sandwich or vegan burger when I want one. And man, now I know just how dang satisfying sandwiches are. They're a perfect balance of carbs, fat, and protein, with some veggies on the side. Hooray for nourishing foods!
So let's celebrate food freedom with some Southwestern Vegan Sliders! 👏🏼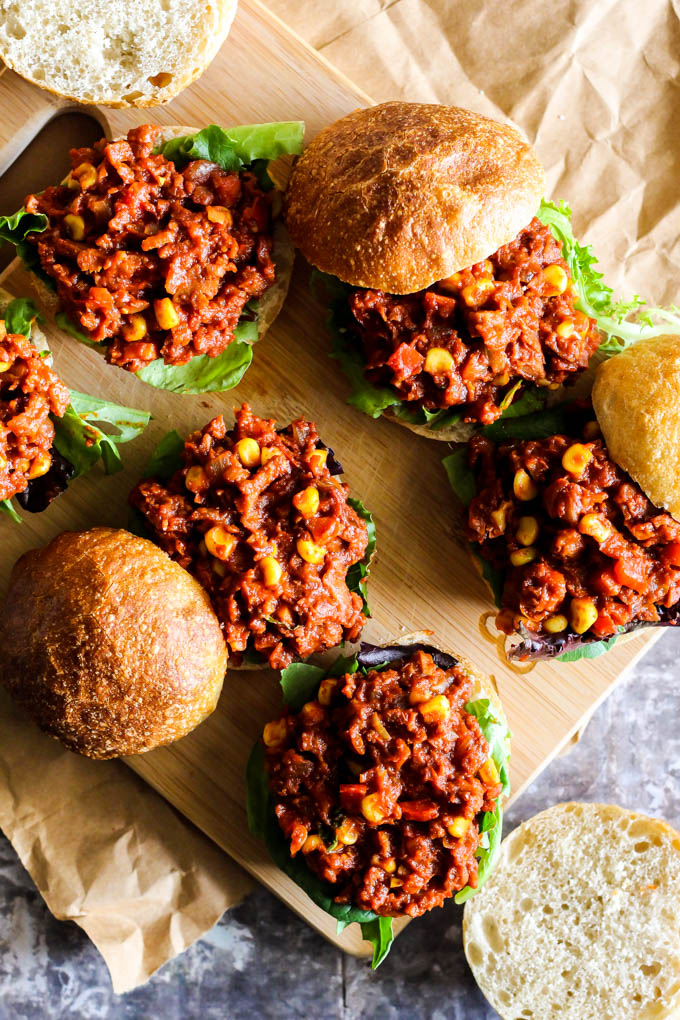 Ingredients for Southwestern Vegan Sliders
The ingredients for these Southwestern Vegan Sliders are pretty simple. All you need to make them is a pack of seitan grounds, some veggies, tomato paste, broth and spices. The end result is a saucy, hearty, slightly spicy filling that you can pile high on some mini buns for a fun vegan appetizer!
Here's everything you'll need for this vegan slider recipe:
Onion. This recipe starts with a base of sauteed onion.
Garlic. I recommend using fresh garlic cloves to really amp up the flavor.
Carrots. You'll want to use about half of a medium carrot, which will add a bit of natural sweetness to the filling.
Red bell pepper. I like red bell pepper in this vegan slider recipe, but you can totally use any variety you like! A poblano pepper would also be delicious.
Corn. You can use canned or frozen!
Chipotle Style Seitan Grounds. I love Sweet Earth Enlightened Foods Chipotle Style Seitan Grounds as they have the best spicy, subtly smoky flavor.
Tomato paste. We're using an entire 6-ounce can of tomato paste to amp up the rich flavor in the filling and ensure that it turns out nice and saucy.
Vegetable broth. Bouillon, packaged broth or homemade stock are all fine! You could also substitute water if you don't have any broth on hand.
Spices. We're using chili powder, ground cumin, smoked paprika and black pepper in the filling for these vegan sliders.
Buns. They're sliders after all, so look for the mini buns at the store! If you can't find mini buns or rolls, you can of course use a regular hamburger bun.
Toppings.  Get creative! I like to really pile on the toppings and will usually go for lettuce, tomato, onion, avocado, cilantro, and cashew cheese cause, but go for whatever you like!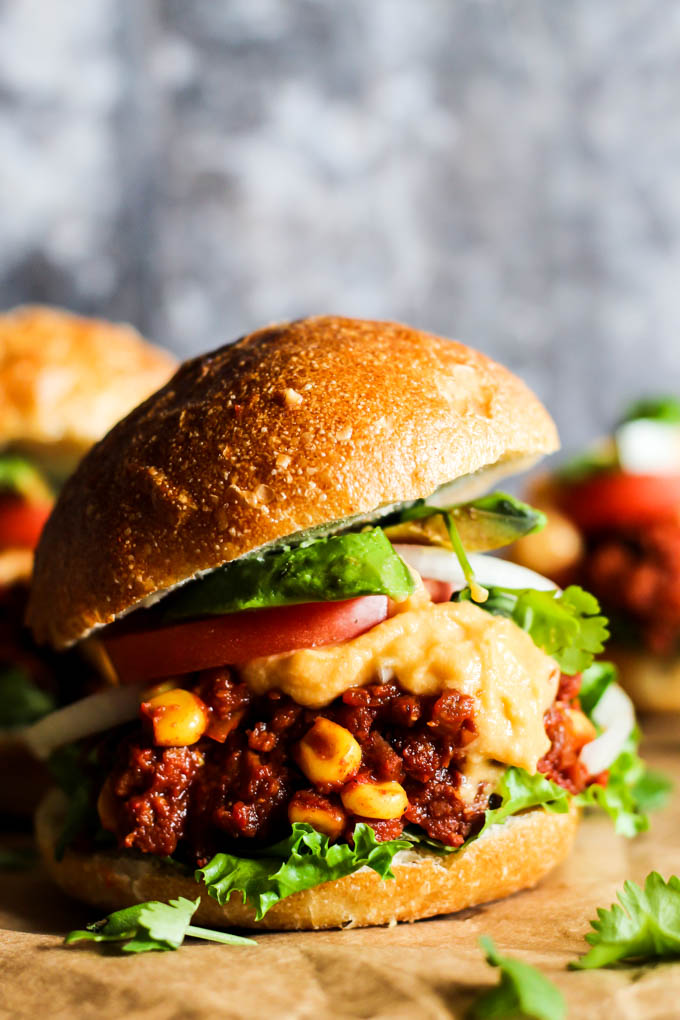 How to Make These Vegan Sliders
With onions, carrots, peppers, corn, and whatever you pile on top (I did greens, tomato, onions, and avocado), these vegan sliders are a surprisingly awesome source of vegetables!
So, what's the "meat" of these vegan sliders? One of my favorite brands ever Sweet Earth Enlightened Foods makes these Chipotle Style Seitan Grounds that are the perfect plant-powered alternative in our sandwiches. Can you believe there's 27 grams of protein in one serving?! (without any cholesterol or saturated fat🙌🏼) And no animals were harmed! I can't wait to try this in some tacos, enchiladas, or skillet meals.
The recipe for these vegan sliders is pretty straightforward: sauté the vegetables with some tomato paste, Sweet Earth Foods chipotle seitan grounds, add in plenty of spices, toast your buns, and top with whatever your heart desires!
These make a easy, delicious dinner as it gets colder outside since they're so hearty and comforting! And because we're using the mini buns, they make for the perfect thing to serve as a vegan superbowl snack!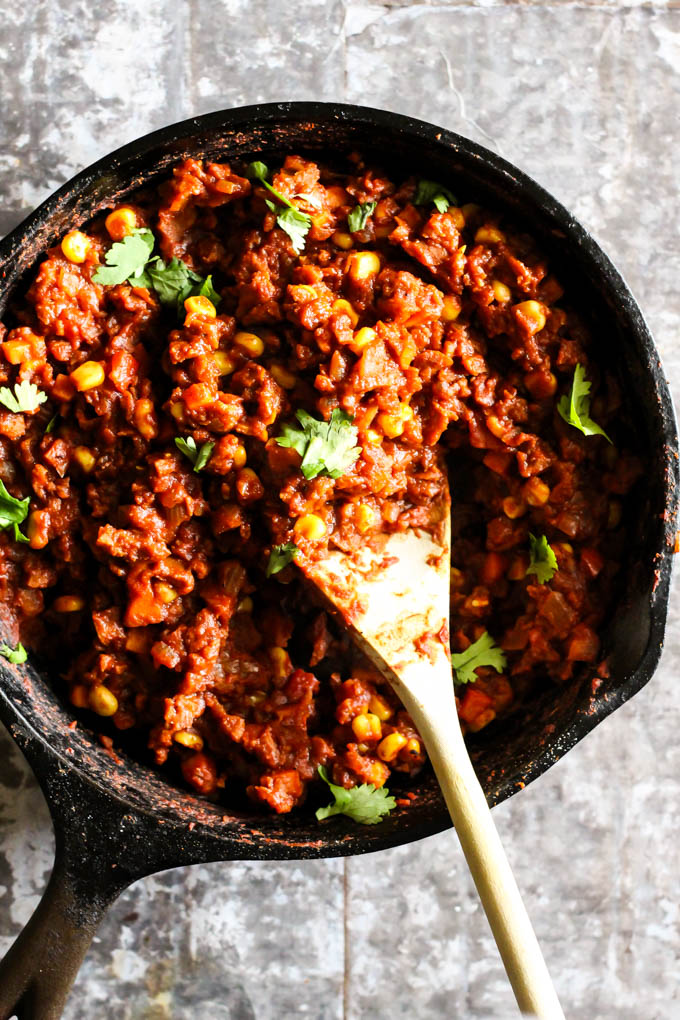 How to Serve These Southwestern Vegan Sliders
With a napkin – these get messy! 😜
But for real, there are so many ways to customize a slider, so make sure to serve them up with a bunch of toppings! If you're having friends over, you can set everything up as a build your own vegan slider bar and let everyone build the sandwich of their dreams!
As far as toppings go, I would recommend tomato, lettuce, sliced onion, fresh or pickled jalapenos, cilantro, shredded red cabbage, vegan cheese sauce, vegan sour cream and avocado as delicious options! If you want them even saucier, you could even top them off with some salsa!
And don't forget to toast your buns! Not only are burger buns always more delicious when they're toasted, but they also hold up to this saucy filling much better when they've been crisped up a bit.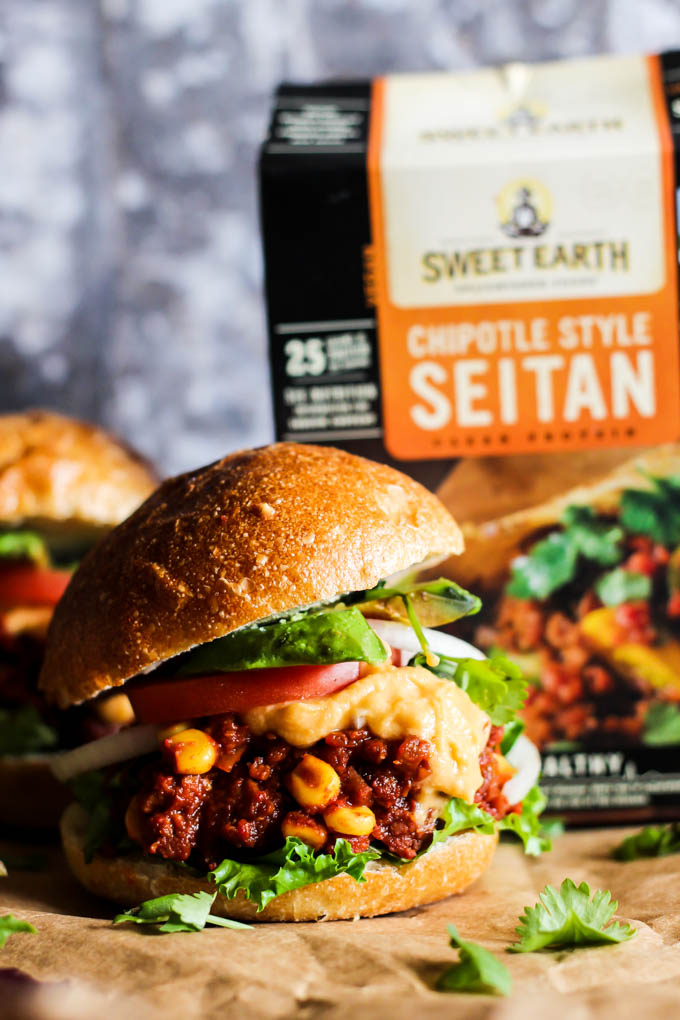 More Vegan Superbowl Snack Ideas
If you're looking for more fun vegan superbowl snack ideas, then I've gotcha covered! From finger foods, to cozy chili and delicious dips, here are some of my favorite vegan appetizers and game day snacks!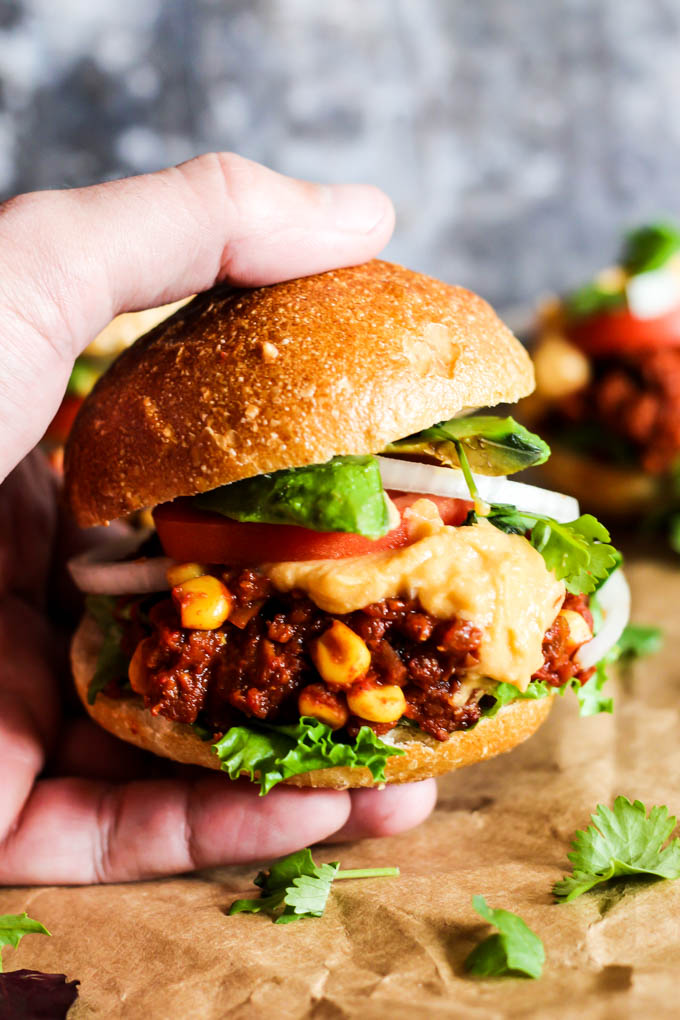 Print
How to make:
Southwestern Vegan Sliders
You need these Vegan Sliders on game day! These chipotle seitan sliders are done in just 30 mins. They're the perfect vegan superbowl food!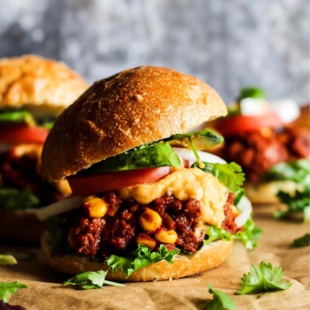 Ingredients
1

yellow onion, diced

2

cloves garlic, minced

1/2 cup

carrots, diced (about

1/2

medium carrot)

1/4

red bell pepper, diced

1/2 cup

corn, canned or thawed from frozen

1

8-ounce package Sweet Earth Enlightened Foods Chipotle Style Seitan Grounds, thawed

1

6-ounce can tomato paste

1/4 cup

water or vegetable broth

1 tablespoon

chili powder

2 teaspoons

ground cumin

1 teaspoon

smoked paprika

1/2 teaspoon

black pepper

8

whole wheat slider buns (or

6

regular-sized whole wheat hamburger buns)
Toppings: lettuce, tomato, onion, avocado, cilantro, cashew cheese, other
Instructions
In a medium skillet, warm a little water or oil over medium heat.
When hot, add onion; cook for 5-7 minutes, until onions begin to brown. Add garlic, carrots, and bell pepper; cook for 5-7 minutes, until vegetables are tender.
Add corn and seitan grounds; break up the grounds with a wooden spoon. Cook for 5 minutes.
Add tomato paste, water or broth, chili powder, cumin, paprika, and pepper; stir to combine all ingredients. Cook for 5-10 minutes to allow the flavors to combine; add more liquid if needed to achieve desired consistency.
Serve a scoop of the filling on a bun with optional toppings.
Thanks to Sweet Earth Enlightened Foods for sponsoring this post! I love working with brands whose products I really love and would honestly recommend. Thank you for supporting this blog that I love oh-so-much!
SaveSave
SaveSaveSaveSave