Full of greens and beans, this Greek Quinoa Bowl is the ultimate healthy lunch or dinner. This vegan power bowl is ready in just 20 minutes!
Vegan Greek Quinoa Bowl
I think we could all use more delicious 20-minute recipes, yeah?
We all have those days where there just don't seem to be enough hours to get everything done. And on those days, spending an hour making dinner just doesn't feel like an option. I probably speak for many of us when I say that those are they days when we're most likely to order takeout, right?
Don't get me wrong, I love a good takeout night and there's always room for that, but ordering takeout on repeat when life gets busy can get expensive. So if you've got 20 minutes to spare, this Vegan Greek Quinoa Bowl will be your new bff on those days where you just can't stand to be in the kitchen. Plus, it doubles as a great vegan meal prep option, so scale the recipe up a bit and save the extras for lunch!

Ingredients for this Vegan Quinoa Bowl
This colorful Greek Quinoa Buddha Bowl is one of my favorite quick recipes for so many reasons. It's filled with color, nourishing ingredients and definitely no shortage of flavor.
Quinoa. Any kind of quinoa works! You could even use frozen pre-cooked quinoa to shave off a bit more time.
Greens. I'm using spinach, but feel free to use spring mix, kale or any lettuce varieties you like!
Chickpeas. You can use canned if you're looking for the convenience factor, or try making a batch of Instant Pot Chickpeas!
Tomato. I love a big fresh heirloom tomato in the summer, but you can use any tomatoes available at the store!
Cucumber. If you don't like cucumber, you could sub in bell peppers for a similar freshness and crunch.
Parsley. Fresh parsley really helps to liven up this Greek quinoa bowl. A sprinkle of fresh herbs can really transform a meal and add a lot of flavor with minimal effort.
Avocado. I like it sliced thin, but you could also dice it.
Hummus. Grab your favorite flavor!
Hemp seeds. I love hemp seeds as a plant-based source of omega-3's and fiber, but you could also use sesame seeds instead.
Lemon. A squeeze of lemon will brighten up the flavors and make all the fresh veggies really shine!
Salt and pepper. Season to your liking!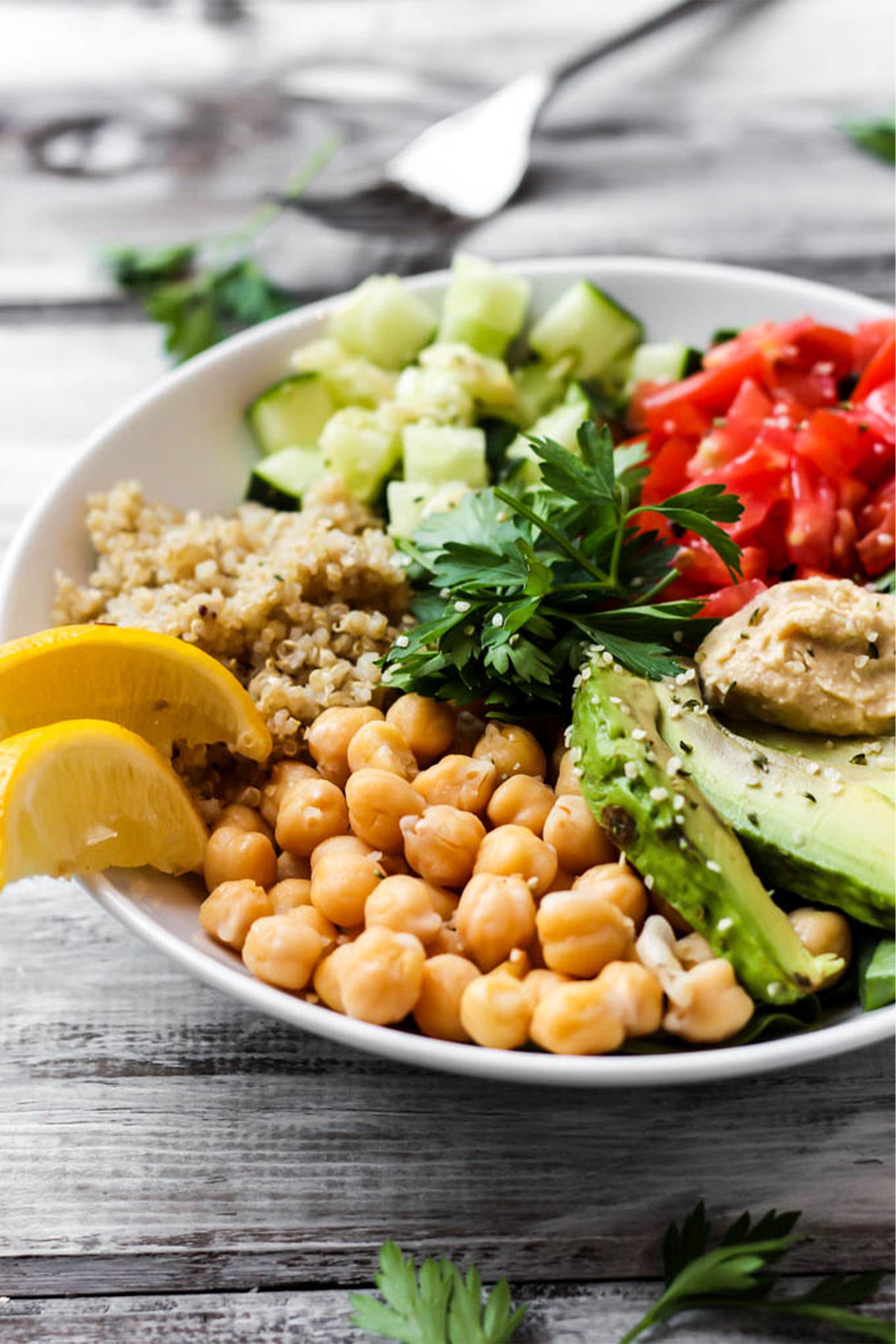 How to Make a Vegan Quinoa Bowl
A vegan quinoa bowl is a great go-to meal because the number of ways you can customize it truly are endless. Quinoa is the perfect base because it's a great source of fiber, protein and complex carbs. Paired with colorful veggies, beans, greens and plenty of toppings, you've got yourself a well-rounded meal that you can make in just 20 minutes!
Here's how to make a quinoa bowl:
Make your quinoa. The star of the show! You can use a pack of frozen pre-cooked quinoa for the convenience factor, or cook a batch yourself! Simple Quinoa has a great guide on how to make quinoa.
Pick a protein. We're using chickpeas in this Greek quinoa bowl. Other great options would be any other bean, a scoop of lentils, crispy baked tofu, tempeh or edamame.
Choose your greens. I used spinach here, but romaine, spring mix, kale or cabbage can all be great in a quinoa bowl.
Add your veggies. The options are endless here! For this Greek quinoa bowl, tomatoes and cucumbers were key to creating the fresh Mediterranean flavors. In the colder months you could try roasted veggies like butternut squash or brussels sprouts.
Top it off. This is where we bring the flavor! Avocado, lemons, parsley and hummus are all boosting our Greek flavors in this vegan quinoa bowl. For other flavor ideas, try a Southwestern quinoa bowl with salsa and pickled jalapenos, or a Thai-inspired quinoa bowl with peanuts, cilantro and Sriracha. Get creative and let me know other flavor profiles that you try out!

More Vegan Quinoa Recipes
Quinoa is a staple for me because it's easy to make and super versatile. While I do love a good quinoa bowl, you can use quinoa in veggie burgers, make a breakfast bowl, use it in a casserole or add it to your salads. If you're looking for more vegan quinoa recipes, give these a try!
Print
How to make:
Vegan Greek Quinoa Bowl
Full of greens and beans, this Greek Quinoa Bowl is the ultimate healthy lunch or dinner. This vegan power bowl is ready in just 20 minutes!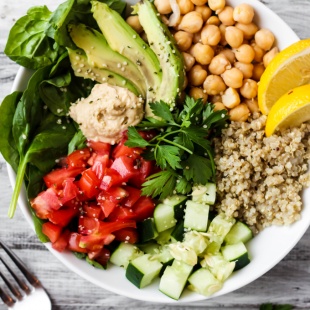 Ingredients
1/2 cup

dry quinoa

1 cup

water

4 cups

spinach

1 1/2 cups

chickpeas, or

1

15-ounce can, drained and rinsed

1

tomato, chopped

1 cup

cucumber, chopped

1/2 cup

parsley, finely chopped

1

avocado, thinly sliced

1/2 cup

hummus

1/4 cup

hemp seeds

1

lemon, sliced into wedges
Salt and pepper, to taste
Instructions
In a medium pot over high heat, add quinoa and water; bring to a boil. Cover; simmer for 13-15 minutes, until fluffy.
In a bowl or plate, add 1 cup spinach. Add 1/4 of the quinoa, 1/4 of the chickpeas, 1/4 tomato, 1/4 cup cucumber, 2 tablespoons parsley and 1/4 avocado. Top with 2 tablespoons hummus, 1 tablespoon hemp seeds and the juice of one lemon wedge. Season with salt and pepper.
Along with the amazing Greek Quinoa Buddha Bowl recipe I'm sharing with you in this post, Vegan on a Budget includes:
20+ breakfast, lunch, dinner, snack, and dessert recipes
Price per serving for every recipe (under $3 for all of the recipes!)
Money-saving tips
A two-week meal plan for $50 per week
Grocery shopping lists for meal plans
I didn't just want to make a bunch of recipes and say "these are cheap!" If you're anything like me, you want proof and numbers and hard evidence. I did the dirty work, crunched the numbers, and figured out the price per serving for every recipe. (Yes, I enjoyed it. I'm a nerd.) The price per serving for every recipe is under $3! Try finding a nutritious meal for that cheap in a drive-thru.
The eBook also includes a two-week sample meal plan to give you a rough outline of a cheap week of vegan eats. Each week comes out to about $50! Of course, this will depend on how much you're eating and how many mouths you're feeding, but regardless, these recipes are very inexpensive and easy to prepare!
To learn more about Vegan on a Budget, click here!